NEW DESIGNED HOUSE CAN BE ASSEMBLED LIKE A JIGSAW
26-10-2015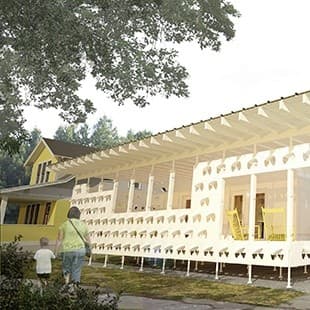 A new revolutionary way at looking at living has been introduced by University students from Clemson University in the US. Indigo Pine is a house that can put together like a jigsaw puzzle and is completely powered by solar panels. The plans for the house can be downloaded and passed on through email so anyone will be able to build their own Indigo Pine wherever they might be.
The materials that are needed in the construct the house from CNC-milled plywood, the house is carbon neutral and is constructed by hand.
The students have dubbed the new house Sim[PLY], in respect to its ease of construction.
It is founded in the design files that can be sent to a local Computer Numerical Control machine, and at the end of the cutting process there are 500 pieces of ply wood that can be flat packed and shipped to a site.
Once at the site the pieces can be fit together with no need for fastening material except for a few stainless steel bands during construction, and holding some holding screws for the floor joists.
The house was developed as a part of the Solar Decathlon competition, hosted by the US Department of Energy and National Renewable Energy Laboratory, which asks students to imagine solar panelled homes that are "cost-effective, energy-efficient, and attractive".
"The repetition and adjustment of building units within the system create an expandable and customisable structure," the Indigo Pine team explains.
"All information is embedded within the pieces, eliminating the need for on-site measuring and cutting, which allows for fast and efficient construction."
The home will be 300 metres squared with three bedrooms, bathrooms, a large common space with kitchen, a front porch, and a carport.  The solar panels attached to the house control the hot water inside the home, and underground airflow helps to regulate the temperature.
So far two Indigo Pine homes have been built, one will be taking part in the competition. The students in charge of the design say that one day it could develop enough to be able to send it to anywhere in the world as the design can be adapted to suit local materials and cultures.
 "The entire concept behind the Sim[PLY] structural system is a quicker, better, safer house construction (not to mention the sustainable aspects of flat-packed parts and local fabrication sourcing)," explains the Indigo Pine blog.
"The rapid construction time allows for the construction of two homes in the time it take for construction of one home with traditional methods.