NEW DEFENCE OFFICE CELEBRATES SUPPLY CHAIN AGREEMENTS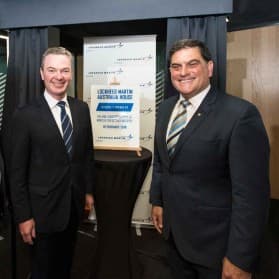 Defence Minister Christopher Pyne (left) and Lockheed Martin Australia Chief Executive, Vince Di Pietro (right), at the Lockheed House opening.
Lockheed Martin Australia has opened a new $12 million Lockheed Martin Australia House on the edge of Canberra's Parliamentary Triangle. 
The new office was opened by Defence Industry Minister Christopher Pyne, who said the company has cemented its ongoing commitment to Australia's defence industry.
"Over the next decade, the Australian government will invest a historic $200 billion in defence capabilities, creating unprecedented opportunities for our local defence industry," said Pyne.
"Lockheed Martin Australia is playing a significant role in delivering the Turnbull government's agenda; employing 860 people nationally, as well as contributing to a range of defence capabilities, including the F-35 Joint Strike Fighter and the Future Submarine Programme."
Pyne said Lockheed Martin, a long-time Global Supply Chain partner, is set to provide international defence export opportunities for small and medium sized companies
"Last year, I was pleased to announce a three-year global supply chain agreement with Lockheed Martin," he said.
"The Defence Export Strategy builds on this, with $3.2 million committed per annum until 2028 to sustain and expand the Global Supply Chain Programme."
The new facility is home to Lockheed Martin's Endeavour Centre, a purpose-built facility designed to enhance opportunities with key industry partners, offering the opportunity to engage, explore, test, conceptualise and problem solve, according to Lockheed Martin Australia chief executive Vince Di Pietro.
"The jewel in the crown of Lockheed Martin Australia House is the Endeavour Centre – purpose designed for customers, industry and academia to embark on partnerships of discovery and overcome any issues together," Di Pietro said.
"By harnessing the power of partnership, the Lockheed Martin Australia Endeavour Centre will play a key role in the pursuit of Australia's future national security challenges and facilitate the development of sovereign capability."
Speaking at the official opening, Rick Edwards, executive vice president, Lockheed Martin International, said the new headquarters is a testament to the prime's investment in Australian industry.
"For more than 70 years, Lockheed Martin has invested in Australia, building long-term capability through our defence innovation, space and technology programmes," Edwards said.
"This building is symbolic of our continued commitment and enduring aspiration to be Australia's partner of choice for defence, aerospace, sustainment and technology solutions, as well as a valued and contributing member of the broader Australian community."
Lockheed Martin's workforce, which is currently made up of more than 900 employees across Australia's mainland states, is tipped to grow by 200 under the design, build and integration contract for the Future Submarine Programme.