New concertina doors for the Australian marketplace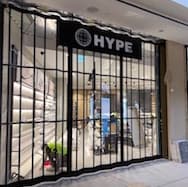 The cost-effective new concertina doors from ATDC are manufactured to be lightweight from extruded aluminium sections and suspended from heavy duty aluminium top track. They have interlocking hinges and industrial grade heavy duty top wheel assemblies allowing the curtain to slide and retract effortlessly.
Manual operation of the doors can be either single or biparting, stacking to one side or two sides as required depending on side room clearances.
The doors are available in 300 mm, 200 mm and 150 mm (slimline) wide panel options. The appropriate option is often determined by design requirements including stacking availability.
Single and double trolley rollers fitted with ball bearings are used and glide in an overhead track 41mm high x 35mm wide aluminium extrusion. The fitted tracks may have a radius of no less than 600mm (wide panel) or 407mm (slim panel) to suit curved applications. For elliptical curves, a template must be provided by the customer.
The photo shows a recently completed project for 300 mm wide panel concertina doors in a black powder coated finish for premium quality footwear retailer Hype DC at Karrinyup in WA. The project manager was NRG Projects based in Campbellfield in Melbourne.
For further information contact ATDC toll free from anywhere in Australia on 1800657435 or visit their website at https://www.trellisdoors.com.au/product/commercial-security/folding-doors-and-shop-doors/fc1-folding-closures