THE NEW CODE OF PRACTICE REVOLUTIONISING WORKPLACE TRAFFIC MANAGEMENT
08-02-2018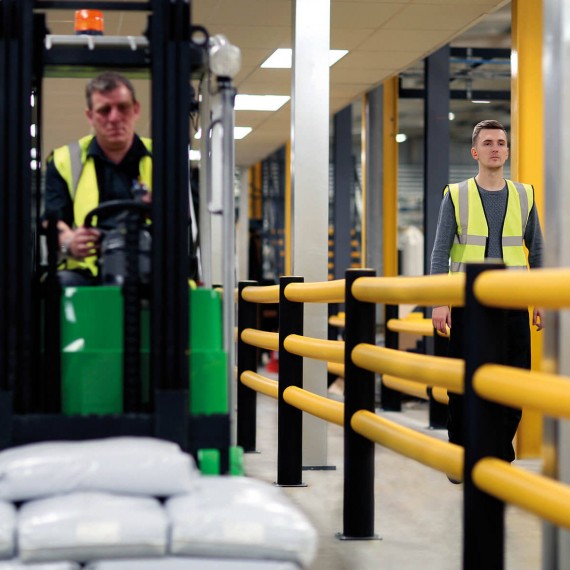 The interaction between pedestrians and vehicles in the workplace presents a major WH&S hazard. Until now there has been very little legislation relating to the subject.
Safe Work Australia has published a general guide on traffic management, together with specific guides for aspects such as warehousing. However, while these guides do help to identify the hazards, they do not define or mandate the use of any specific type of barrier.
This problem is not unique to Australia. In the UK, incidents involving pedestrians and vehicles in the workplace cause 50 deaths and more than 5000 injuries annually. Worldwide, 317 million workplace accidents occur each year, with 2.3 million people losing their lives. That's 6300 every day.
Alarming statistics like this need to be addressed. As a step towards tackling this, the British Standards Institution (BSI) recently published the first official code of practice for safety barriers used in traffic management for workplace environments.
The code of practice, PAS 13:2017, was sponsored by safety barrier specialist A-Safe, which led an expert steering committee made up of some of the world's biggest blue-chip companies: Nestle, DHL, Jaguar Land Rover, Allianz, and Mars, to name a few.
The resulting document is the final word on safety barrier practice and workplace traffic management procedure, globally. It covers everything from defining minimum requirements for barrier tests and pass/fail criteria for barrier survival and fixings integrity, to assessing the kinetic energy of impacts and implementing appropriate force resistance.
PAS 13:2017 contains industry-leading guidance in both the use and design of safety barriers in workplace environments. It is essential reading for anyone working in health and safety in workplace environments.
James Smith is co-owner and director of A-Safe. He says: "The PAS is a reference point for anyone with responsibility for facility design, traffic management, segregation and workplace health and safety; and shares best practice on the application and use of safety barriers. It encourages readers to think about the role of safety barriers as a priority, not an afterthought or retrofit.
"It's also a solid reference point for manufacturers and distributors of safety barriers, and remains vendor neutral, communicating a nonbiased message to the audience, so the content can be used by anyone."
The PAS 13:2017 code of practice is available from BSI Publications.
A-Safe Australasia
02 9625 8927
www.asafe.com