New burster sensors deliver accuracy and reliability
31-08-2010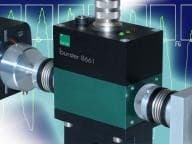 With the new, compact 8661 series of torque sensors, burster is extending its portfolio of products to include the acquisition of static and rotating torques over the range from 0.05 Nm up to 200 Nm. 
In addition to its highly accurate measurements – down to 0.05 percent of full scale – this remarkable development offers a high level of reliability and security. 
An optional, integrated USB interface also provides the traveling user with easy, mobile display and documentation of the measured values. 
And the outstanding price/performance ratio opens a huge range of possible applications in industrial both automation and in the laboratory.
This torque sensor comes into its own most particularly in fields such as precision and micro-mechanics, test bed equipment for electric motors, or in the automobile industry, where torque and the associated angular position and rotation speed are important process magnitudes. 
It is also very much at home in laboratory research and development projects in medical technology, in the chemical industry, and in quality control.
A range of burster products is now available through its Australian representative ADM Instrument Engineering.
ADM Instrument Engineering
Ph: 03 9551 6922