New Bulka-Frame stacks up – literally
31-08-2010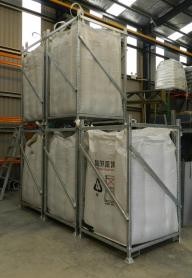 Orion Australia Pty Ltd has recently released the new Bulka-Frame system, making the handling and storage of bulk bags much easier.
The Bulka-Frame system is fully engineered and certified for use in Australian workplaces, having undergone stringent testing to ensure complete safety and compliance with the relevant Australian Standards.
Now, thanks to the Bulka-Frame system, users of bulk bags can:
Overcome OH&S risks commonly experienced when handling bulk bags
Stack bulk bags up to 4 high
Empty bulk bags without need to suspend bag by its lifting straps
Increase vertical lift height by lifting bags from underneath
Each Bulka-Frame is hot dip galvanised, and is suitable for containment of bags up to 1250kg weight. 
Orion Australia Pty Ltd also manufactures and supplies a large range of industrial quality bins and hoppers for a wide variety of industries. 
Orion Australia P/L
Ph: 1800 752 784