Product News, Manufacturing Technology
Published 22-06-2021
| Article appears in August 2021 Issue
New book explores the future of automotive design and manufacturing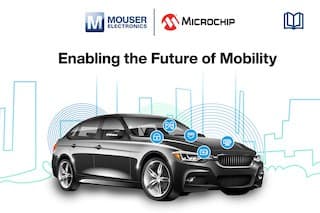 The launch of an eBook by Mouser Electronics and Microchip Technology has highlighted the products and technologies that are enabling the next generation of automotive solutions. 
In the book, Enabling the Future of Mobility, thought leaders from Mouser and Microchip provide insights into some of the issues facing automotive design, including motor control, cybersecurity, and vehicular software. 
The modern motor vehicle is highly connected, with sensors monitoring key indicators and autonomous features supporting automatic parking and lane deviation assist. Electric automobiles require innovative fast charging solutions to make the experience of owning an EV comparable to combustion engine vehicles. These fast-charging breakthroughs are supported by technologies such as silicon carbide (SiC) and high-performance gate drivers to provide digital control. 
Enabling the Future of Mobility offers a range of expert insights into the most innovative technologies being used in automotive manufacturing, connecting complex design challenges to the products required to solve them. The eBook offers product information and links to several Microchip solutions, including automotive analog products, a range of microcontrollers, and automotive timing solutions to support autonomous driving, in-vehicle Ethernet, and engine control modules. 
Microchip's solutions that are available from Mouser include microcontrollers, sensors, antennas, power supplies, and embedded solutions. Mouser stocks a broad selection of Microchip Automotive Solutions as well.
To learn more about Microchip, visit https://www.mouser.com/manufacturer/microchip/. To read the new e-book, go to https://www.mouser.com/ebooks/microchip-future-mobility.