New BOC helmet range offers top protection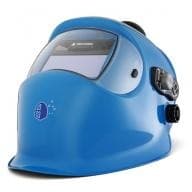 Leading gases and engineering company BOC has launched a new range of specialty helmets to keep welders safe.
As a major supplier of workplace safety equipment, BOC's new state-of-the-art Weld Guard welding helmets are now available through its distribution centres and Gas & Gear outlets in Australia and NZ.
Senior Product Manager for Safety at BOC, Joe Martinez, said the different Weld Guard helmets offered specific protection levels to be used across most welding processes.
"All are lightweight, high impact helmets that comply with Australian Standards AS/NZS1337.1 and 1338.1,'' he said.
The range includes the Auto-tracker, Multi-process and Galaxy models.
The Auto –tracker helmet is ideal for TIG, MIG and MMA welding. It utilises unique sensor technology allowing the cartridge to automatically darken to the required shade level and self adjusts to suit the intensity of the arc.
 The Multi-process is suited for TIG, MIG, MMA and gas welding and is specifically designed for welders with varied job requirements who need an extensive range of adjustment options.
The Galaxy helmet is designed for MIG, MMA, gas welding and grinding. It has a flip front and features a modular viewing adaptor that can easily be swapped in and out to provide multiple viewing options.
An exciting addition to the range is the Weld Guard PAPR system – a high impact respiratory unit that allows workers the ability to weld in confined spaces.
The Weld Guard PAPR system provides ideal protection against UV-IR radiations, flying particles, metal fumes and dusts emitted during welding and associated processes.
The lightweight unit is approved to AS/NZS standards 1338, 1337 for high impact and 1716 for P3 respiratory.
You can use the BOC store locator to find your nearest supplier: http://www.bocworldofwelding.com.au/storelocator/
BOC
Ph: 131 262