New battery-powered lifting magnet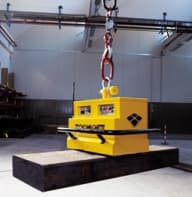 Serpent & Dove now offers a magnetic lifter for places where no electric power is conveniently available.
Tecnomagnete's Bat-Grip is not like other battery-operated lifting magnets.
Bat-Grip employs a unique permanent-electro magnet system which dramatically extends up-time between battery charging because battery power is required only for the activate and de-activate operations.
Actual lifting is effected by permanent magnet elements. This lifting magnet is suitable for situations where no cabled electric power is accessible.
Bat-Grip is suitable for lifting loads of up to two tonnes under Australian Standard AS4991 and is equipped with a remote wireless control system and Tecnomagnete's unique Dautanac system to prevent discharge during a lift.
Bat Grip is now available ex-stock Sydney from Serpent & Dove – Applied Magnetics Pty Ltd.