Materials Handling & Equipment
NEW AUTOMATED WAREHOUSE ACHIEVES 250% PRODUCTIVITY BOOST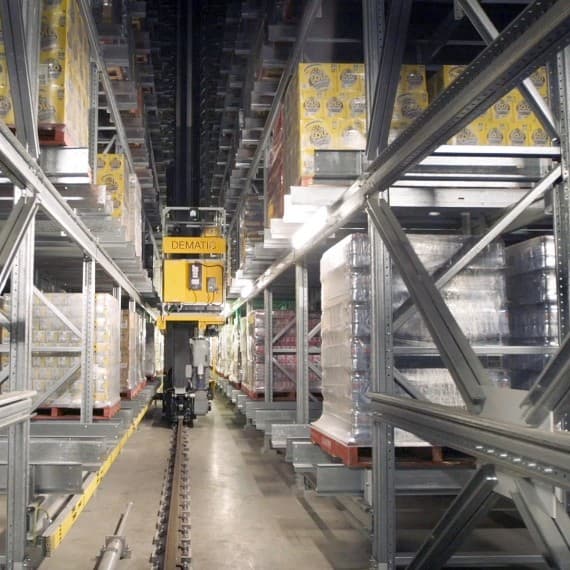 Asahi Beverages has successfully increased productivity by 250 per cent with the installation of an automated storage and retrieval system in its new distribution centre in the southern Brisbane suburb of Heathwood. Dematic, a leading supplier of integrated automated technology, software and services to optimise the supply chain, has helped improve the efficiency of Asahi's warehouse operations, reduced its manual processes and enabled it to better service its customers.
Asahi is a leading beverage company that produces and distributes alcoholic and non-alcoholic products in Australia and New Zealand, with a number of distribution centres across Australia. Previously, it operated across multiple locations in Brisbane and used manual forklifts for block stacking, which came with a lot of disadvantages and challenges.
"We previously had a very labour intensive system in place, with every truck that came in having to be unloaded by a forklift," Asahi Beverages Heathwood Distribution Centre Manager Nathan Lucinsky says. "We then had to receive the paperwork manually, check the pallets manually, move the pallets into the storage location and then do all that in reverse to pick them."
In making the decision to consolidate its sites into one distribution centre and upgrade to an automated warehouse solution, Asahi wanted to achieve a number of benefits, including reducing costs, improving efficiency and productivity, and being able to better meet the needs of its customers.
The high bay racking at Heathwood is 13 levels high and 34 bays deep, and the storage and retrieval system extends to six pallet positions deep on either side of the six cranes, accessed by satellite carts. In total there are approximately 31,500 pallet storage positions.
"After assessing Asahi's warehouse requirements, we knew that the best solution for them was the six-deep satellite ASRS," Dematic Project Manager Dominic Figliano says. "The ASRS we built for Asahi uses Dematic's newest and fastest crane, the 1200 H1. This is also the tallest satellite system we have built in Australia.
"An automated system such as this eliminates a lot of the manual handling of pallets. This not only creates efficiencies and a high productivity boost of 250 per cent for the customer, but also increases safety for workers in not having as many forklifts."
In a distribution centre such as Asahi's Heathwood site, each manual touch of a pallet represents a cost to the business and comes with the risk of human error.
"We've now automated our warehouse processes and only use manual processes where it makes sense," Lucinsky says. "In fact, most of our pallets won't be touched by a human until they get to our customer DC."
A key factor in Asahi's decision-making process when looking for a new provider was working with a company that understood the local market. Asahi chose Dematic, as it has a demonstrated capability in delivering similar projects within Australia. In addition to the system, Dematic integrated third-party equipment including the skate docks, stretch wrapper machine, label applicators and a pallet inverter.
Dematic
02 9486 5555
www.dematic.com.au