NEW AUTO PALLET RING WRAPPER FROM PRO-PAC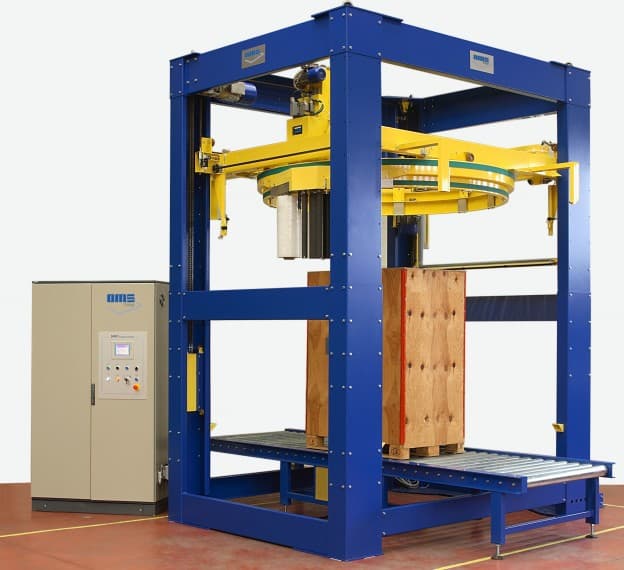 Pro-Pac Packaging (Aust) has unveiled the latest automatic pallet ring wrapper from OMS.
The OMS AVR900 is a highly reliable, high performance machine that guarantees prestretch ratio's up to 300 percent without any use of an additional motor or any electrical contact through slip-rings.
The OMS AVR900 ring wrapper allows users to execute the wrapping cycle without any movement of the pallet load.
As a result, the quality and the stability of the pallet load are not endangered and important production capacities remain guaranteed.
With the OMS pallet ring wrapper you can start and stop the wrapping cycle at any height of the pallet load. This allows specific wrapping programs, such as top wrapping and single wrapping.
The OMS AVR900 delivers increased reliability and reduced maintenance as well as stable loads with minimal film consumption.
Features include:
·       Exclusive and patented "tuck under" system – at the end of the cycle, the final film tail is safely inserted under the previous wrap
·       No loose film ends, guaranteeing a perfect finishing
·       No pallet alignment needed as the system detects and moves towards the pallet.
·       Reliable film end fixing without heat seal
And thanks to the particular telescopic structure, the machine is easily adjustable in height to suit the maximum pallet height of the palletized loads to be wrapped.
Pro-Pac Packaging is the sole distributor of OMS machinery and parts in Australia.
The company also carries a full line of semi and automatic machines, and offer a broad range of hand tools for both steel and poly strapping.
Pro-Pac Packaging (Aust)
Ph: 1300 776 722