New Australian agent for Erhardt+Leimer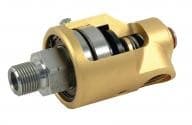 Erhardt+Leimer range to compliment cutting edge technology from Deublin
Norman G Clark is now the exclusive Australian agent for Erhardt+Leimer – a specialist for system solutions and automation technology on running webs and belts. 
Erhardt+Leimer rank among the worldwide leading suppliers of control, guiding, and inspection systems for the textile, paper, corrugating, film, tire, rubber, non-woven, and printing industries.


Erhardt+Leimer's broad product range comprises customised solutions for web control, web guiding and spreading, web tension measurement and control, cutting technology, measuring and inspection technology as well as print image monitoring.


The Erhardt+Leimer range of products will compliment Norman G. Clark's current range of industrial solutions.
This includes Nexen clutches and brakes and Deublin rotating unions, used extensively in the web processing industries.
Norman G. Clark (A/Asia) Pty Ltd
Ph: 03 9450 8200