New Aussie-made CNC profile cutter released
31-08-2010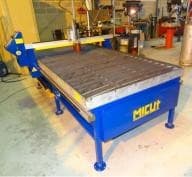 A small Melbourne metal manufacturer has taken on the global giants with the release of two new MiCut CNC profile cutters.
The new machines are designed and built in Australia – at a very competitive price.
The MiCut CNC oxy plasma cutter is the brainchild of partners, welding engineer Michael Reitel and software specialist, Ian Christiansen.
Not satisfied with the performance of foreign-made CNC plasma cutters from China and other parts of the world, the innovative partners decided they could do better and established MiCut – an engineering facility to manufacture a range of plasma CNC cutters.
MiCut is being distributed throughout Australia by Smenco, leading distributors of welding equipment, consumables and associated welding technology. 
According to Michael Reitel, the MiCut profile cutting machine range has unmatched accuracy and robustness in its class. 
"All of our machines are designed and built in our own factory in Melbourne with many parts sourced locally, Mr Reitel said. "We use modern, innovative manufacturing methods along with premium parts and materials. We believe simplicity is the key to producing products that are easy to install, operate and maintain. "By reducing the complexity of existing plasma CNC cutters and concentrating on quality, our cutting machines will deliver ongoing reliability, speed, accuracy and long life."
There are two MiCut CNC models in the range – the 1212 (cutting area 1230mm x 1230mm and the 1224 (cutting area 1230mm x 2460mm). 
Both models feature unique backlash gear technology with high quality precision tool steel gear racks with ground gears.
The low profile water table is engineered and robust enough to take heavy plate for plasma/Oxyfuel CNC cutting. Captive slats for magnet use can be easily re-positioned depending on your needs. 
Micut 1212 (cutting area 1230mm x 1230mm) can easily be upgraded to the MiCut 1224 (cutting area 1230mm x 2460mm) by adding a modular design extension kit without the expense of buying a completely new machine.
The MiCut machines require minimal maintenance and are simple to install.
MiCut
Ph: 03 9798 1012