Published 13-04-2021
| Article appears in April 2021 Issue
New ash analyser offers operational savings, efficient boiler recovery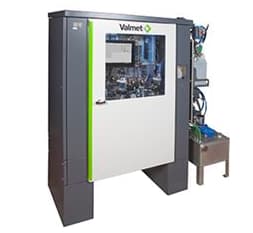 Valmet has developed an innovative solution to reduce forced boiler shutdowns, caused by superheater corrosion or boiler plugging, and provide guidance for ash treatment and sootblowing needs.
The new Valmet Recovery Ash Analyser measures the ash composition at the electrostatic precipitator (ESP) and determines the ash melting temperatures which describe the corrosiveness and stickiness of ash.
A new Valmet Industrial Internet (VII) application, Valmet Ash Balance Adviser, is an additional option to maximise the Valmet Recovery Ash Analyzer's advantages and optimise ash treatment for significant cost savings in sodium make-up.
Technical information about Valmet Recovery Ash Analyser
The Valmet Recovery Ash Analyzer measures the complete chemical balance including ESP ash pH, carbonate (CO3), sulfate (SO4), chloride (Cl), potassium (K) and sodium (Na) concentrations as well as calculating ash melting temperatures T0, T15 and T70.
The ESP ash sample is taken from the ash drop shoot after the ash conveyor by a robust stainless-steel sampler, dissolved in water, and transferred to the analyser where chemical analyses and ash melting temperature calculations are made.
Comprehensive diagnostics and secure Valmet Industrial Internet (VII) ready capabilities ensure reliable and dependable results with intuitive access to measurement operation and remote services from Valmet.
Valmet is the leading global developer and supplier of process technologies, automation and services for the pulp, paper and energy industries.
Its strong technology offering includes pulp mills, tissue, board and paper production lines, as well as power plants for bioenergy production.
Advanced services and automation solutions improve the reliability and performance of customers' processes and enhance the effective utilisation of raw materials and energy.
Optimised operation
Ash treatment has typically been a batch operation based on infrequent laboratory tests with no standard criteria of when to start treating or dumping ash.
"The problem with laboratory measurements is that samples are taken so seldom, and the results are often incomplete and cannot be used for optimal control. Now, with the online analyser, control of actual ash chemistry is possible and boiler cleaning together with operational costs can be optimised on a continuous basis," says Timo Laurila, Business Manager, Recovery Analysers and Advanced Process Controls, Automation, Valmet.