NEW ACTIV'SHIELD MAKES SAFETY A TOP PRIORITY
15-09-2015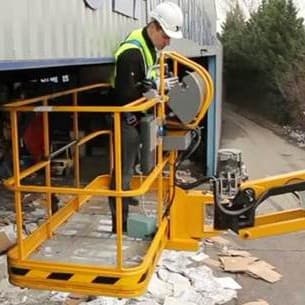 United Forklift and Access Solutions is introducing to Australia the ACTIV'Shield Bar Entrapment Prevention System by Haulotte Group.
ACTIV'Shield Bar includes an alerts that warns the operator of potential dangerous situations, and Safety Gap which prevents full entrapment in such situations allowing the user to remove themselves from danger United's Mr Andrew Macdonald has said.
United, who is an authorised distributor of Haulette equipment has said that the unique system affirms United and Haulotte's commitment to leadership in working at height safety, while also substantially advancing industry standards for protection against overhead crushing.
The ACTIV'Shield Bar is available on all new Haulotte booms, with a retro kit also available for older booms. Boom uses include installation, inspection and maintenance as well as general access to elevated areas and machinery.
Some of the features include the alarm that will automatically stop the machine and sounds an alarm alerting the user and others near by if the bar reaches 18 degrees. Also incorporated is Safety Gap, which allows users to remove themselves from danger ahead of time and avoid injury, and allowing reverse and lowering movements only after the alarm has been activated.
"While incorporating the unique and outstanding safety features of ACTIV'Shield Bar, Haulotte has maintained operator visibility of controls, which further extends safety, ergonomics and productivity," says Macdonald.
The system has been designed to preserve the machine's working envelope and to maintain easy access to controls, which means no change in working practice for the operator.
"Haulotte – which is Europe's largest manufacturer of powered access equipment - has approached the safety issue with the operator firmly in mind. With the innovative ACTIV'Shield system, Haulotte has gone much further than current industry requirements in Australia and worldwide, giving the operator the opportunity to not only potentially prevent a full entrapment situation, but also the means to self-rescue should one occur," said Macdonald.
United Forklift and Access Solutions
131 607
www.unitedequipment.com.au