Published 14-04-2020
| Article appears in April 2020 Issue
New 8-in-1 Datalogic MX-E Industrial Vision Processors deliver better safety and compatibility checks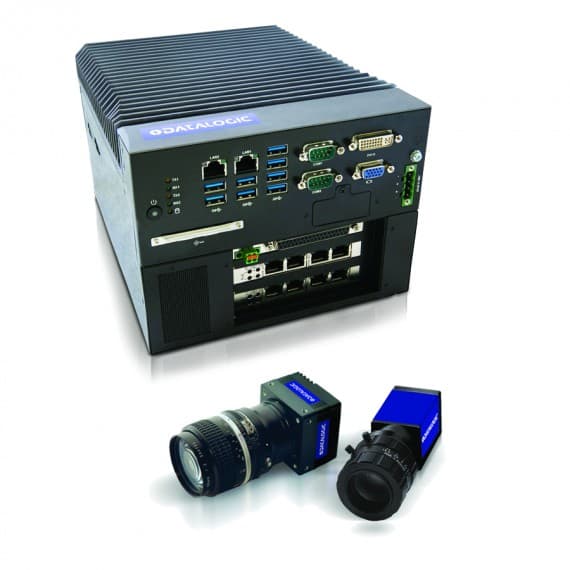 Global automatic data capture and process automation leader Datalogic is introducing its fastest and most flexible Industrial Vision Processor series, with a range-topping model that can power up to eight gigabit power over ethernet (PoE) cameras simultaneously.
These new 8-in-1 MX-E processors provide faster processing and more RAM to handle demanding manufacturing, logistics, food and beverage packaging, pharmaceutical, automotive, electronics, and other industrial applications such as robot and laser guidance, barcode and pattern recognition, gauging of multiple measurements, flaw detection (such as identifying surface defects), content verification, hazardous label detection, object location and traceability.
"Having one processor handle eight cameras at once also helps to reduce total cost of ownership, because integration, set up, and maintenance costs are lower, which means less cabinet space is used, lower power consumption, fewer cables, fewer input/output (I/O) blocks and fewer spares are needed," said Mr Bradley Weber, Product Manager, Datalogic.
The processor's rugged and compact chassis provides robust, long service life, even in harsh industrial environments such as fast-paced manufacturing facilities and process engineering operations.
Flexibility
Datalogic's new MX-E series has three tiers to allow the user to select the level of performance based on individual application needs. Models include:
MX-E25 - a cost-effective entry level processor, capable of connecting to two five megapixel cameras
MX-E45 - featuring multi-core processing, able to connect up to four cameras
MX-E90 - the highest performing processor. With 32Gb of RAM, quad core processing, and the ability to connect to eight cameras, users can inspect faster and process more pixels to fully optimise their operations.
"All MX-E models have multiple configuration options to further extend application flexibility. And, because multiple cameras are linking to a singular processor, it simplifies cabling needs by eliminating the need for camera power cables, which reduces the overall cost of ownership," Mr Weber said.
"The MX-E Series industrial vision processors complement Datalogic's line of smart cameras, allowing our customers ultimate flexibility to address their machine vision needs."
Integration with IMPACT software
All Datalogic MX-E series industrial vision processors and smart cameras can integrate with Datalogic's complete IMPACT software suite for just about any inspection and user interface need, providing extreme programming flexibility.
"Datalogic's IMPACT software is a proven platform that allows users to solve machine vision inspections with an intuitive drag and drop environment. IMPACT makes it easy to create a vision program based on its suite of algorithms and logical control. It also allows users to create custom user interfaces in minutes to monitor the line," Mr Weber said.
"With the new MX-E Industrial Vision Processors, users can run their machine vision applications faster, process higher resolution images, or add more cameras to fully optimise their operation," Mr Weber said.
Highlights of the new MX-E series include:
rugged, industrial, high-powered vision processors
state-of-the-art processors and the top-quality, industry leading hardware components
three models for different performance levels
compatibility with a wide range of cameras from VGA up to very high resolution
grayscale and color, area scan and line scan cameras
ethernet (GigE Vision) connectivity and multi-camera support
up to eight power over ethernet (PoE) camera ports – PoE compliant cameras need no power cables and support up to 100-metre cable lengths
universal dongle for easier SW license management
complete IMPACT software suite included for ultimate programming flexibility – addresses any inspection and user interface needs
long-term product availability.