Never-Ending Story of Lencrow's tilt trays
31-08-2010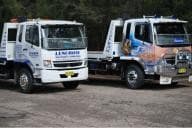 Lencrow has added two new tilt trays to its extensive machinery transport section.
The materials handling giant recently bought the tilt trays from Sydney firm Suburban Towing, bringing the Lencrow tilt tray fleet to nine units. 
Lencrow was one of the first companies in Australia to offer tilt trays, building the first unit in 1978. 
The tilt tray fleet has been providing transport of forklifts and wheeled machinery for over 34 years, with a fast, reliable response time for unit deliveries.
Lencrow was also one of the first hire companies to offer the hire of forklifts with a driver, on an hourly basis. 
This service allowed people an efficient and cost effective way to get equipment and goods unloaded by trained operators with the right piece of equipment.
For more than 30 years Lencrow has transported nearly every make and type of forklift for OEM and end users alike.
Mr Ross Grassick, general manager of Lencrow says the additional units will enable the company to maintain the level of service customers have come to expect. 
"People need tilt tray units on demand – controlling our own fleet allows us to offer this service," says Mr Grassick.
One of Lencrow's new trucks features a cabin air-brushed with a mural of the characters from the Never-Ending Story.
"This is very fitting for our proud 34-year history," says Mr Grassick.
Lencrow Group
Ph: 1300 536 276