Need to transfer goods from pallet to pallet in 90 sec?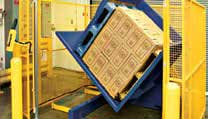 Do you need to transfer palletised product quickly, safely and efficiently?
The Pal-Tec Pallet Inverter from Optimum Handling Solutions is ideal for fast transfer of product, cutting out the arduous and time-consuming process of the manual restacking of products.
Whether you are manually transferring product from damaged pallets to acceptable pallets or from hired timber pallets to plastic pallets or even inspecting your stock – the pallet inverter allows you to overcome this material handling issue with ease.
A forklift driver can operate the Pal- Tec Pallet Inverter from the seat using a remote control post.
This heavy duty pallet inverter is simple to operate and well-priced. It has a small footprint and suits all standard pallets. The inverter unit is supplied with safety fencing on all three sides and can be specified with safety cut eye beams on entrance.
Why spend time and money manually transferring goods from pallet to pallet when the Pal-Tec Pallet Inverter will do it for you in 90 seconds?
With Optimum's Pal-Tec you can increase productivity reduce worker fatigue and the chance of injury in your packaging and palletising operations.