Need new industrial brakes? … so what's stopping you?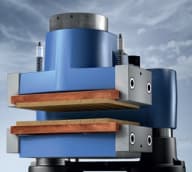 The Australian market now has a new supplier of industrial heavy-duty brakes with Deanquip launching the KTR-STOP range of brakes at AIMEX 2013 in Sydney earlier this year.  
A leader and innovator in mechanical power transmission, KTR has now designed an optimum braking system to cater for industry needs.  
The end result is the high quality KTR-STOP range of callipers. 
While sharing the same design principals of typical heavy-duty industrial brakes, KTR-STOP has some key differentiating features.  
The shafts on which the floating callipers slide, are fully encapsulated with seals that eliminate the common problem of the callipers sticking.  
Also, a key feature helping with operating costs, the design allows 100 percent wear of the brake pads, eliminating the need to change out the pads before all the friction material has been used.
This gives longer pad life and, more importantly, less frequent need to stop plant for maintenance.  
KTR-STOP is available in both active and passive braking systems with pads in both organic and sintered materials.  
Importantly, KTR pads are fully interchangeable with the Svendborg pads on all main models of Svendborg callipers.  
KTR sintered metal pads are also available with the option of square blocks filling the entire braking surface as well as the traditional round puk style pieces of wear material on the braking surface. 
The KTR-STOP brakes fit well with KTR's existing product lines of brake disks and couplings which have a long standing presence, and are viewed as market leader, both globally and here in Australia.  
KTR, a renowned supplier of power transmission components, has built an enviable reputation for German engineering excellence and quality.
It has a proud heritage beginning with the invention of the curved tooth coupling, which became known as BoWex, and the jaw coupling known across the industry as ROTEX.  
Deanquip has represented KTR in Australia for almost 40 years. 
Deanquip
Ph: 1800 338 171