Need metal swaging and forming service?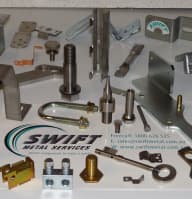 Swift Metal Services offer sophisticated metal swaging and forming capabilities for a wide variety of materials and thicknesses.
These include metal components, brackets, clips, pins and U-Bolts for a wide variety of OEM and aftermarket companied in the automotive arena.
Pressing forming and swaging machinery and innovative processes ensure the team at Swift can swage or form your job correctly and to tight specifications.
Locally owned, Swift Metal Services is a second generation metal stamping and pressing company with locations in NSW and Victoria, but are called on to provide their expertise to the automotive industry, across the country.
Swift Metal Services, own a comprehensive range of automated metal pressing machinery to facilitate faster, more competitive production runs of small metal components and pressed parts.
Swift's cutting edge pressing and swaging machines can utilize copper, galvanised steel, stainless steel and phosphor bronze coil. Components are swaged, pressed and formed with greater accuracy, maintaining higher quality, whilst being comparative pricewise with imports.
By using these Swift Metal capabilities, Australian manufacturers can achieve a significant reduction in lead times, resulting in lower inventory of stock items.
Swift have a breadth of swaging and pressing dies to large variations in diameter and profiles and also feature a fully equipped, in-house toolroom to ensure that clients tooling performs with the utmost accuracy and efficiency.