NATIONAL SOLAR PROJECT TO CUT RETAILER'S CARBON FOOTPRINT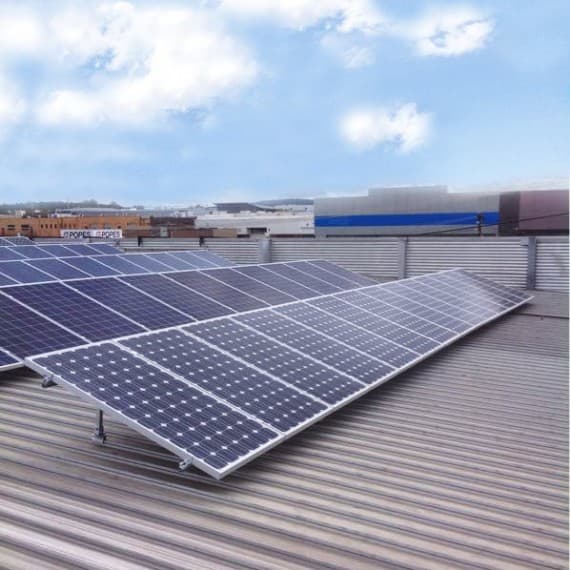 Beacon Lighting is well on the way to substantially reducing its carbon footprint as its partner Upstream Energy nears completion of a national solar project spanning more than 70 stores and saving millions of kilograms of carbon emissions each year.
Upstream Energy developed a proposal to deliver clean energy to Beacon Lighting's portfolio in order to reduce operational costs, lower greenhouse gas emissions, and promote sustainability. When completed in late 2017, the project will see Beacon become a retail industry leader by lowering its retail energy carbon footprint by approximately 75% and capitalising on underutilised roof space in its leased buildings.
Beacon's electricity profile is particularly constant and predictable, with seven-day consumption, predominantly during daylight hours.
The national project – one of the largest collective commercial installations in Australia – will see Upstream install up to 4MW of solar generation around the country, potentially reducing Beacon's annual energy spend by over 20% per store while cutting expected energy carbon emissions by almost 6 million kilograms each year.
In addition to the custom-designed solar power stations, Upstream has also retro-fitted the Beacon stores with LED fixtures, provided HVAC efficiency treatment and sub-metering for complete energy visibility.
Upstream is actively working in the large format retail sector to deliver low-cost clean energy solutions to businesses in tenanted buildings. Further to the production and delivery of clean electricity, Upstream is actively seeking landlords to lease their roof space in similar projects.
Proprietors can expect to receive ongoing monthly revenue from nil capital outlay, in addition to an improved, sustainable building with greater tenant bargaining power.
Beacon Lighting is Australia's leading and largest specialist retailer of lighting, ceiling fans and light globes. As its presence grows to over 107 stores across Australia, Beacon's mission is to light people's lives through its advanced lighting and energy efficient solutions.
Beyond its impressive range and Beacon Solar's trusted delivery of renewable solar energy, Beacon Lighting is continuing its commitment to energy sustainability through its National Solar Project.
Beacon Lighting Group CEO Glen Robinson says the initiative is proof of the company's commitment to reducing its carbon footprint and also to reduce a growing overhead on its stores.
"This is an important demonstration to retailers that we're focused on their ongoing financial success, not to mention our role in reducing our environmental impact," he said.
The retail roll out is a continuation of the success the business has had with solar energy, having installed a 100kW system on the Beacon distribution centre in Derrimut in May 2016, with the 384 panels installed in the unique shape of the word Beacon.
The result is not only a landmark design for Beacon, but also projected savings of a 24% reduction in energy consumption and projected ROI of 14.1%.
According to Glen Robinson: "This unique solar installation sets the bar high when it comes to the power and flexibility of solar and will continue to demonstrate the benefits of adopting a long-term approach to reducing our carbon footprint and reaching Australia's renewable energy target of 20% by 2020.
"Whilst we have been operating successfully in the Australian market for the past 50 years, there have undoubtedly been market influences that have changed the way in which we run our business.
"We see the future success of our business as being able to adopt new technologies and innovative solutions, helping reduce operating costs for our retailers and supporting them in delivering the same solutions to their customers."
Along with the conversion of globes in store to energy efficient LEDs and other measures including heating, ventilation and air conditioning treatments, Beacon Lighting is extending its PPA offering to its commercial customers through the Beacon Solar business.
Beacon Lighting
Beacon Solar