Published 07-02-2019
| Article appears in February 2019 Issue
NATIONAL MANUFACTURING WEEK TO CELEBRATE 20TH ANNIVERSARY IN MAY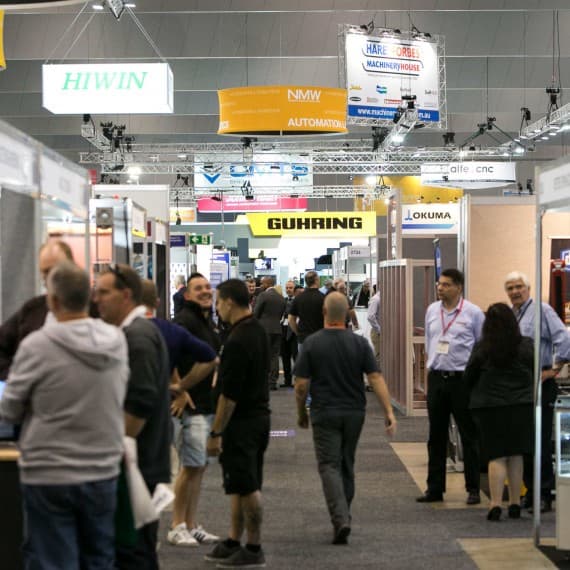 After a successful event in 2017 with more than 10,000 visitors, National Manufacturing Week is returning with a new brand vision as it celebrates its 20th anniversary from 14th to 17th May 2019 in Melbourne.
As Australia's largest manufacturing exhibition and conference, National Manufacturing Week is the place for the manufacturing community to come together and connect over four days.
This year's theme "Industrial Evolution" represents the transformation of Australia's manufacturing sector into a highly integrated, skills-based, and collaborative environment.
"The 20th edition marks an important and exciting time in the manufacturing industry. The rise of automation, collaborative robots, internet of things and high-level engineering in this sector is a clear sign the manufacturing industry is evolving," says Robby Clark, Exhibition Director of National Manufacturing Week.
"This year's event is all about celebrating what Australia's manufacturing industry has accomplished and driving innovation to help local manufacturers stay ahead of the game."
Peak industry bodies supporting this year's event include the Advanced Manufacturing Growth Centre, Engineers Australia and Weld Australia. National Manufacturing Week 2019 will again be co-located with Austech, the only event in Australia targeted at the metalworking, machine tools and ancillary market.
Through these strategic partnerships, National Manufacturing Week will continue to strengthen the manufacturing community and add to the viability of the Australian manufacturing industry.
Industry experts
National Manufacturing Week, Austech and the Advanced Manufacturing Growth Centre are collaborating to deliver a conference programme with an impressive lineup of industry speakers.
"AMTIL is delighted to further cement the long-term relationship between Austech and National Manufacturing Week with our joint conference programme at our event this May," says Kim Banks, Events Manager of AMTIL, organiser of Austech.
"We are excited to collaborate on what promises to be a high-calibre programme which involves cutting edge concepts in the Industry 4.0 space."
The conference programme, divided into Industry 4.0 Theatre and Connected Manufacturing Theatre, will feature more than 70 expert speakers who will share exclusive insights into the latest developments of the manufacturing sector.
Industry 4.0 Theatre
The Industry 4.0 Theatre programme will offer visitors the latest research and expert opinion on the future impact of Industry 4.0 on businesses.
The programme will kick off on the first day with a keynote address from Australia's Chief Scientist Dr Alan Finkel, an innovation stories series run by the Advanced Manufacturing Growth Centre, and a panel discussion run by Peter Roberts, leading journalist, editor and founder of the 4200-member Australian Manufacturing Forum.
On the second day, the Australian Manufacturing Forum will run another panel discussing the benefits of onshoring, followed by presentations on driving innovation through advanced materials, and case studies on adopting smart technologies in factories.
The third and fourth day will cover various topics such as artificial intelligence in advanced manufacturing, Industry 4.0 digital shipbuilding in global supply chain, the outlook of the defence market, and the evolution of robotic manufacturing in Australia.
Speakers in the Industry 4.0 sessions will include: Dr Nico Adams, Director of Factory of the Future, Swineburne University; Dr Sue Keay, Australian Centre for Robotic Vision; David Chuter, CEO of the Innovative Manufacturing CRC (IMCRC); Christopher Vains, Head of Digital Enterprise at Siemens; and Dr Jens Goennemann, Managing Director of the Advanced Manufacturing Growth Centre.
Connected Manufacturing Theatre
Aimed at business owners, managers, WHS professionals, and designers, the Connected Manufacturing Theatre programme will focus on business management, design and industrial safety.
An extensive range of topics will be covered including reducing electricity costs through demand response, optimising B2B packaging, accelerating operational performance and improvements through the smart factory, safety as a vehicle for culture change, safety policy case study, metal 3D printing, and much more.
On the exhibition floor
More than 200 leading solution providers at the forefront of manufacturing will exhibit the latest cutting edge, advanced manufacturing products and services at National Manufacturing Week 2019.
Exhibitors include BAC Systems, 3M Australia, Central Innovation, Universal Robots, Profifeed Technologies and Kobot Systems. A diverse number of first-time exhibitors are also joining the event such as Partable XRF, ASG Group, and High Tech Products.
This year, the exhibition floor will be divided in to six product zones including Automation & Robotics, Engineering, Industrial Internet of Things, Safety, Welding Technology and Manufacturing Solutions.
These zones will help visitors navigate the extensive range of products on offer and discover solutions to numerous challenges in improving operations, quality, productivity, and global competitiveness.
National Manufacturing Week will take place from 14th to 17th May 2019 at the Melbourne Convention and Exhibition Centre. Free registration is available online.
National Manufacturing Week
www.nationalmanufacturingweek.com.au