NATIONAL CAMPAIGN TO REMIND WORKERS TO SLIP, SLOP, SLAP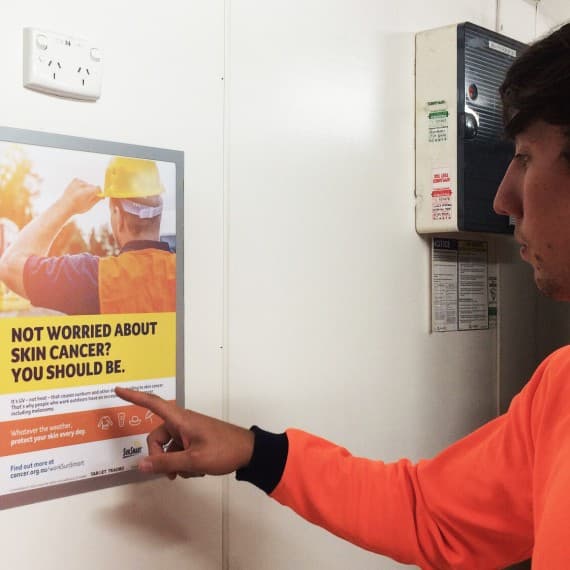 Target Tradies and Cancer Council have teamed up to help educate Australian construction workers about the importance of being SunSmart at work. With evidence showing that outdoor workers receive five to 10 times the amount of UV of indoor workers, the campaign aims to remind tradies to take simple steps to reduce their skin cancer risk.
Target Tradies is a Australian company focused on delivering specific messaging to tradies on the job, visiting over 600 sites a month across the country. Over the past 4 years it has posted dozens of campaigns for government, institutions and commercial companies.
The campaign supporting Cancer Council is being rolled out out across Australia, and will include a series of new posters showcasing targeted sun protection messaging for outdoor workers. The posters will remind trade workers to slip on a long-sleeved shirt, slop on SPF 30 or higher sunscreen slap on a hat, seek shade and slide on sunglasses, as well as keep a close eye on their skin.
Heather Walker, Chair of Cancer Council Australia's National Skin Cancer Committee says that outdoor workers need to use sun protection all year round.
"Australia has one of the highest rates of skin cancer in the world. The majority of skin cancers are caused by the sun's UV radiation, so those who work outdoors are at significantly higher risk.
"We need to keep reminding Australian tradies that if you work outdoors, sun protection is an essential part of OH&S. That's why we're thrilled to be partnering with Target Tradies to raise vital awareness about the risk of UV exposure on worksites across Australia."