NARVA PUTS SPOTLIGHT ON SAFETY
30-01-2016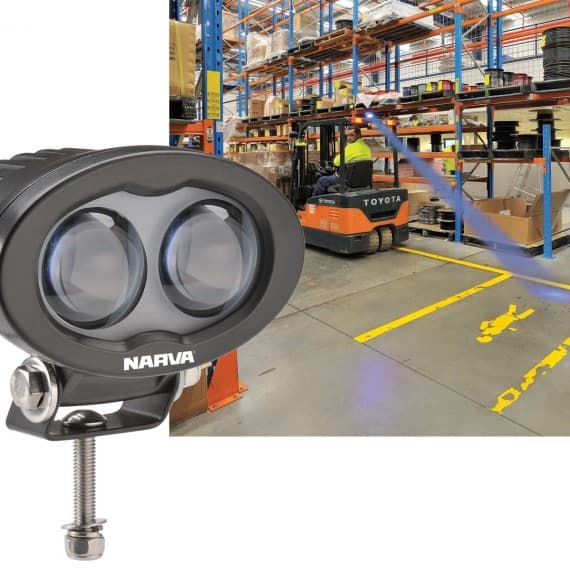 Narva, a leader in automotive lighting and electrical accessories, has heeded the call for a safer working environment with the launch of a new Blue Spot LED safety light.
The new light can be fitted to forklifts and used in other materials handling applications, to warn if a forklift is approaching.
Mandatory reversing alarms in loud and busy working environments such as factories and warehouses, can be lost among the noise.
With a concentrated light projection the Narva's Blue-Spot safety light can be easily mounted to the forklift's protective roof frame, casting a strong beam approximately 500mm at 5m onto the floor ahead, warning others of the intended driving path. 
The new safety addition is particularly valuable to anyone crossing from a blind angle such as in between racking in front of an oncoming forklift.
The 9-110 volt light features two potent XP-E 3 watt LEDs and is programmed to be a constant beam yet despite its strong light output it boasts compact dimensions of 100mm H x 122mm W x 82mm D.
Thanks to adoption of the latest LED technology, the light has a very low current draw (0.4A at 12V and 0.2A at 24V) plus the benefit of exceptionally long service life. For ease of fitment and durability, stainless steel mounting hardware is also included as standard.
As an added bonus the Blue-Spot LED safety light is supported by a 5-Year LED Narva warranty. 
Already widely used in the US and Europe, the new Narva Blue-Spot lights are available in Australia from Brown & Watson International through leading automotive, transport and warehousing outlets.
Narva is Australian owned and is a leader in the development, manufacture and supply of automotive lighting and electrical components for the automotive, marine and transport industries.
Visit the Narva website for more information.
Brown & Watson International Pty Ltd                                               
Ph: 03 9730 6000