MULTI-SERVICE CABLE TRANSITS STOP FIRE SPREADING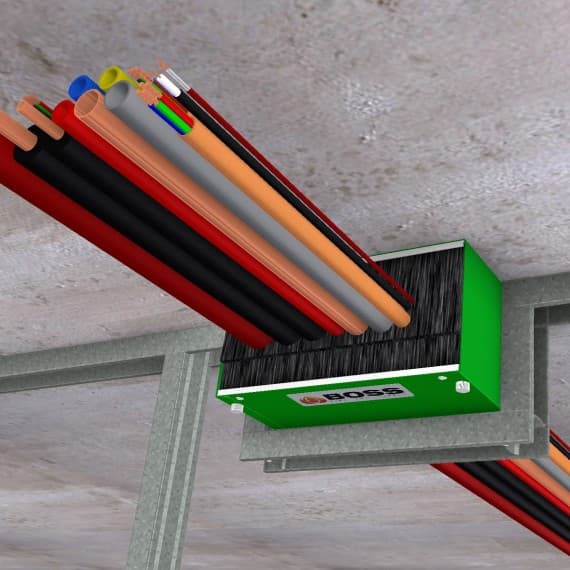 Danger and risk in urban residential construction demands constant efforts toward progressive innovation. Thankfully, award-winning engineering teams such as those at Boss Fire continually strive to make high-rise living and working increasingly safe.
Boss Fire and Multiplex Construction met the challenge with the new FyreBox design, first installed in Melbourne's Grand Capitol South Yarra project. Their efforts provide an important case study on how problems in compliance and design specifications can lead to enhancing safety while also reducing costs.
The road to creating FyreBox originated in Multiplex Construction's concern over the incorrect installation of penetration seals covering services entering each apartment in the prestigious Grand Capitol development. Multiplex called on Boss Fire to help improve safety and comply with building codes.
The collaboration took 18 months. It resulted in a final product that beat the stout competition to win "Fire Protection Project of the Year Under $1 Million" at the second annual Fire Protection Industry Awards Gala held in Melbourne. Judges praised FyreBox as an effort to "think inside the box" for new solutions that will protect residents as much as possible from the dangers of smoke and fire.
FyreBox actually accomplishes this goal while also creating savings in labour and reduced wastage. As described in Asia Pacific Fire, it is a "new centralised penetration seal with intumescent brushes covering all services entering an apartment." Stefan Juli, director of business unit chemicals at Hilti of Tulsa, Oklahoma, USA as well as a member of the International Firestop Council and Firestop Contractors International Association, says that such measures are key. With poor penetration protection "smoke can go easily upward and actually spread through the building." Even worse, "the fire barrier is rendered less effective, and fire will spread beyond the compartment of origin."
The Capitol Grand project presents a challenge to contractors because its developers envision a mixed-use upscale development reaching "hedonistic heights of luxury." Each one of its 417 luxury units, scheduled for completion next year, must meet code and design benchmarks for hydraulic, electrical, acoustic, and other important standards.
The challenge presented pushed Boss Fire and Multiplex to look at new methods for passive fire protection. Boss Fire Managing Director Mark Prior explained that, as a result, "it's such a unique, game-changing product." In fact, when showcasing the product, Prior and Technical Manager Steve Lunn had to argue with the "too good to be true" objections because FyreBox was such a departure from "traditional fire-stopping methods."
Questions have been answered to industry satisfaction. Now, more than 3000 FyreBox systems, manufactured in Caringbah, have been sold domestically and to projects in New Zealand and the United Kingdom.
Risk can never be completely eliminated, and fire deaths and damage will always, unfortunately, be in the news headlines. When great Australian companies such as Boss Fire and Multiplex Construction team up to diligently meet safety standards through innovation and persistent work, families can sleep better at night knowing that their apartments are as safe as possible.
FyreBox only provides one of many potential case studies of positive developments throughout the industry. As the strong interest and participation at the Fire Protection Awards demonstrate, Boss Fire and Multiplex are not alone in pushing hard for better safety solutions. Consistent advancements in the field show what companies can accomplish when they are both willing to collaborate and also look beyond convention.
Boss Fire
1300 308 493
www.bossfire.com.au