MULTI-PROTOCOL WIRELESS CONNECTIVITY FOR IOT APPLICATIONS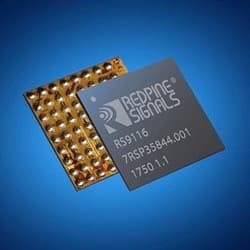 Mouser Electronics stocks the RS9116 family of modules from Redpine Signals, which provide reliable multi-protocol wireless connectivity for a broad range of low-power applications, including security cameras, industrial sensors, fitness bands, smart locks and IoT devices.
The modules support multi-protocol wireless connectivity with Bluetooth 5, dual-band (2.4 and 5GHz) 802.11abgn Wi-Fi, and 802.15.4 capable of running Thread or Zigbee. They feature an integrated baseband processor with RF transceiver, calibration memory, high-power amplifier and flash memory. Their architecture enables optimised transitions between high-performance and low-power operating modes, allowing the devices to support a Wi-Fi standby associated power of less than 90µA. They also include an ultra-low-power wake-up receiver with secure wake-up pattern to prevent battery drain attack. They are available in either embedded (WiSeConnect) or hosted (n-Link) configurations for easy integration with different processor families and operating systems.
Mouser also stocks RS9116 evaluation kits. Available in single-band (2.4 GHz) and dual-band (2.4 and 5GHz) versions, the kits provide a single platform that enables evaluation of both WiSeConnect and n-Link modules. Each kit includes an RS9116 baseboard, wireless daughter card and the necessary cables, plus a sample driver and applications to test wireless functionality, security modes and more.
Mouser Electronics
+852 3756 4700
au.mouser.com