Multi axis robot energy chains from Treotham
31-08-2010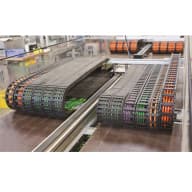 The Chainflex CF Robot family transfers energy and data reliably in highly dynamic applications for the most popular industrial bus systems – Profibus, CAN-bus, Industrial Ethernet.
Available now from Treotham Automation, the braided shield has an optical coverage of 85 percent.
The pressure-extruded outer jacket is extremely abrasion-proof, oil-resistant and is made of a flame-resistant, halogen-free PUR mixture.
The twistable PUR motor cables can be supplied in either shielded or non-shielded versions. Particular importance was attached to the damping elements protecting the elements as they twist.
The use of high-grade PTFE gliding layers has been continued in order to provide a sturdy basis for the special torsion-resistant insulation.
This allows for the most demanding of twisting applications.
The new twistable fibre optic cables have been matched to real-world robot requirements. On a test structure 1m long in the company's own technical centre, the FOC cable presented in Hanover has already carried out more than 4 million strokes. At a torsion angle of +/- 180°, there has been no change in the great data transfer behaviour.
The cable has two optical fibre cores, is resistant to oils and UV light and remains flexible in the cold. The FOC cables with high-tensile Aramid fibres and dampers are stranded firmly around the GRP core. The pressure-extruded outer jacket is made of a halogen-free TPE mixture.