MRT sets new benchmark for conveyor components
31-08-2010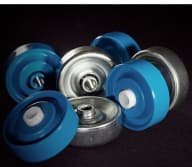 Every conveyor component from MRT Australia is the result of years of design development and tightly controlled manufacturing.
Launched last year, the company boasts some of the most qualified and experienced people in the industry.
MRT Australia combines the finest German engineering with Australian expertise.
It has partnered with a leading German engineering company to offer the most extensive range of high quality conveyor components in Australia.
Components include roller bearings in a variety of materials, poly-directional rollers, chain, belt and micro-belt drives.
These products are ideal for a broad range of industries including manufacturing, warehousing, logistics, food & beverage and abattoirs & poultry processing.
With MRT conveyor components tolerances are low, materials are high grade and finishes are excellent. Everything works smoothly and quietly for a very long time.
MRT prides itself on reliability and performance, with highly competitive prices.
It also provides outstanding technical advice, with solutions for the most challenging applications.
And its association with Germany means it can source "hard to get" components not readily available elsewhere.