Moving air simply using the 'ductless duct'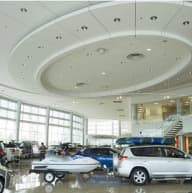 The movement of air will provide cooling either in conditioned or non-conditioned spaces.
The key is being able to control the air movement and use it where it is needed – either to optimise HVAC systems or simply just move air to remove or transfer heat or offer evaporative cooling.
The Airius Air Pear Thermal Equalizer is a unique patented air turbine.
Using simple, but reliable and effective maintenance free technology Airius Air Pears provide a controlled and focused laminar flow of large amounts air vertically up to 40m and horizontally up to 55m. 
From keeping an office or classroom cool to moving air from one space to another or working as a cost effective air curtain in large manufacturing plants, pharmaceutical storage, cold stores down to minus 26°C, greenhouses, indoor pools, warehouses or even aircraft hangars, the Airius Air Pear can be easily installed or retrofitted into any facility.
Using extremely low amounts of power and with the largest unit weighing only 20.5kg and a relatively small size, Airius Air Pears are simply installed by either hanging off the roof or walls or sitting on the ground. No structural design needed. They fit easily into almost any spot in your facility. Their directional ability, extremely low energy consumption, very low noise and non-turbulent focused airflow has led them to be called the "ductless duct."
A powerful but very low energy fan motor works in concert with a patented stator design used to correct and straighten the radial air flow from the fan blades. Then a Venturi designed throat helps to propel the air out of the unit for a long distance in a narrow focused column.
The smallest unit uses 12W of power and the largest model – the 100 – uses 400W to move large amounts of air.
These units are hard to beat. There are no large visible blades to create strobing or collect dust.
And with low install costs similar to that of a new light, there are over 65,000 units sold worldwide across US, Europe, UK and now Australasia.
In conditioned spaces in the hot Australian summer energy savings of 35 percent of HVAC have been regularly achieved.
In non-conditioned spaces the controllable and directional movement of airflow will ensure the temperature in the space can be equalised or air can be moved away or directed to another location.
Designed and manufactured in America, if cooling (or heating) is your requirement, Airius Oceania can provide a cost effective and efficient solution.