MOVE TO SLASH RED TAPE 'WILL CREATE MORE JOBS'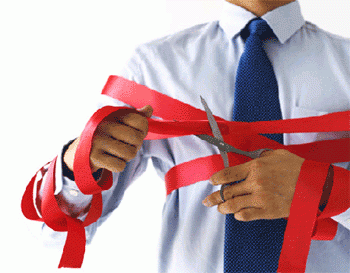 Industry is strongly supporting the Federal Government's ongoing initiative to cut red-tape.
Federal Parliament this Wednesday will consider measures to erase more than 7000 pages of regulation from the statute books in a bid to ease compliance burdens.
This follows the first so-called "repeal day" in March, where more than 10,000 pieces of legislation and 50,000 pages of regulations were abolished.
Parliamentary secretary to the Prime Minister Josh Frydenberg says the new measures will save far more than just the $2 billion in compliance costs.
"The economic benefit to the economy is exponentially bigger than just that $2 billion," he told ABC radio.
The Australian Chamber of Commerce and Industry and the Australian Industry Group both welcomed the move.
ACCI Director of Economics & Industry Policy, John Osborn, said: "Put simply, less red tape means more jobs, more innovation and more successful entrepreneurship for Australian business."
"There is an old joke that says governments only like to cut red tape, lengthwise. But this government has shown that with the right principles and the right framework we can achieve real progress.
"ACCI looks forward to seeing more of the detail of what the government aims to repeal in this second round but we are broadly supportive."
Mr Osborn said business welcomes the commitment to one-stop-shop environmental approvals and simplification of the tax system.
He called on all political parties and independents to support the initiative.
"Removing barriers to major investments will help improve national productivity and competitiveness while leading to better economic and social outcomes," he said.
According to government figures more than 32,000 small businesses who have no GST payable being exempt from the requirement to lodge a Business Activity Statement.
"This is a win for small business," Mr Osborn said.
AiGroup chief executive Innes Willox said: "It is very encouraging that the Government is maintaining its focus on this very important reform area.
"Unnecessary, overly-complex and duplicating regulatory measures are the bane of the business community and of small business in particular, he said. "Measures removing, simplifying or streamlining the burden of red and green tape not only lift a load off businesses, they free-up for more productive ends the considerable time and effort currently consumed by excessive reporting and compliance tasks."  
Mr Willox said the AiGroup particularly welcomed the measures to streamline accreditation processes for building and construction companies working on Commonwealth-funded building projects.
"Lengthening accreditation periods to up to six years for high-performing companies, together with removing duplicated accreditation requirements, will ease unnecessary regulatory burdens on construction companies and lift productivity. 
"Ai Group will look very closely at the measures announced today and will consult with our members to assist the Government to build on them and refine and modify them if necessary.
"We urge the Government to maintain the rage against unnecessary and poorly-designed red tape."