Movable storage units for dangerous goods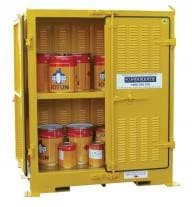 The Storemasta Outdoor Relocatable Dangerous Goods Stores are recognised by many manufacturing, mining, processing and off shore industries as the most effective and versatile means of compliant storage solution.
Fully compliant with the relevant Australian Standards, the self contained Storemasta Outdoor Relocatable Dangerous Goods stores cater for the storage of pallets and 1000L intermediate bulk containers (IBC's). 
With the addition of the new Mini Series (250L – 850L capacity) you can conveniently store smaller packages too.
Available from Priority Supplies, the goods stores are constructed in Australia using locally produced materials.
Storemasta has a long history and experience in the dangerous goods storage industry, resulting in a complete range of products for the bulk storage of oils, fuels and chemicals. 
The range caters for storage from one pallet or IBC through to 32 pallets.
With the minimum of site preparation requirements or submissions to local planning authorities, the Relocatable Dangerous Goods stores provide an attractive and economical alternative to a fixed construction. 
They are suitable for the storage and containment of all dangerous goods classes.
And they can be built to meet any specific requirements, including full stainless steel versions for harsh and offshore environments.
With the increasing demand for occupational health and safety, compliance and environmental protection the correct and safe storage of hydrocarbons and chemicals is imperative.
As well as providing ultimate safety, these goods stores can increase storage efficiency, improve product accessibility and eliminate waste.
Priority Supplies
Ph: 1800 245 578