Product News, Manufacturing Technology
Published 13-07-2021
| Article appears in August 2021 Issue
Mouser launches nearly 4,500 new parts in a single month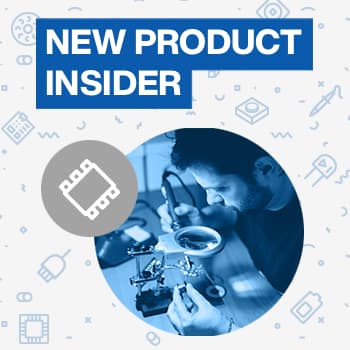 Sensirion SFC5500 Digital Multi-Gas Mass Flow Controllers were among more than 4,465 products launched by Mouser Electronics in May alone.
More than 1,100 semiconductor and electronic component manufacturer brands count on Mouser to help them introduce their products into the global marketplace. Mouser is focused on the rapid introduction of new products and technologies.
The Sensirion SFC5500 series are CMOSens-based devices that measure gas mass flow by the calorimetric principle, based on heat transfer. The controllers achieve unmatched ratings for speed, accuracy, and repeatability at a very attractive system cost.
A heater element on a thermally insulated membrane and two thermopiles located upstream and downstream are integrated on a single silicon chip. In the presence of gas flow, the temperature distribution up and downstream is disturbed. This asymmetry is then measured.
A larger channel design makes the device more robust against particles, clogging, and humidified gases. Due to the compact single-chip design and mounting between metal parts, CMOSens-based sensors are also very resistant to electromagnetic disturbances.
Other products introduced by Mouser include:
DIGI IX15 Gateway and Cellular Routers
These are low-cost, quick-to-market alternatives to chip-down DIY designs for networking operations. The industrial-grade Digi IX15 connects Digi XBee modules to cloud applications over the cellular network. This provides the easiest path to internet connectivity for the Digi XBee ecosystem of hardware, software, services, and award-winning tools. The Digi IX15 gateway features a simple open-source Python development environment that enables custom applications to perform edge computing locally. This also provides the most optimal, resilient connectivity between the XBee network and cloud-based applications.
NXP Semiconductors S32G2 Vehicle Network Processor
This processor is designed to unlock the full potential of vehicle data. The S32G2 Processor safely and securely transports and processes exponentially increasing vehicle data, supports secure edge-to-cloud communications, and enables new vehicle services. These features can generate revenue and reduce costs for OEMs while enabling new vehicle experiences.
The NXP Semiconductors S32G2 Vehicle Network Processor combines ASIL D safety, hardware security, high-performance real-time and application processing, and network acceleration for service-oriented gateways, domain controllers, and safety co-processors.
OSRAM Opto Semiconductors Micro SIDELED 3806 LED
This is an SMT side-emitting LED with 180lm/W optical efficacy, 120° typical radiation, and 1B corrosion robustness class. It features InGaN on Sapphire chip technology and operates from -40°C to 85°C operating temperature range and 9750mlm to 11500mlm luminous flux (ΦV) range with 20mA forward current (IF). 
This LED offers a low package height and is used in applications in limited space environments such as TV and backlighting in the monitor. The Micro SIDELED 3806 is 14% brighter than its predecessor and offers an attractive price/performance ratio.
To see more highlighted products, go to https://www.mouser.com/newproductinsider.
Mouser offers the world's widest selection of the newest semiconductors and electronic components – in stock and ready to ship. Its customers can expect 100% certified, genuine products that are fully traceable from each of its manufacturer partners. To help speed customers' designs, Mouser's website hosts an extensive library of technical resources, including a technical resource centre, along with product data sheets, supplier-specific reference designs, application notes, technical design information, engineering tools and other helpful information.