Motorised drums: a powerful solution
31-08-2010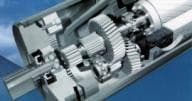 If you're looking for a conveyor belt drive system offering a sealed and safe solution, look no further than DRUMOTECH – a world leader in drive technology. 
DRUMOTECH, available from TSS Company, has a range of motorised drums from 80mm up to 1000mm in diameter.
They are available in a wide range of powers and speeds for driving industrial conveyors in bulk materials and package handling facilities. 
Designs include options for AC, DC and hydraulic motorised drums.
These internally driven, efficient, high quality industrial drives are proven even in the most adverse of conditions. 
Motorised drives with sealing protection to IP66 provide a powerful, economical solution in light and heavy duty conveying. 
New design developments include:
Capability in large drum design up to 400kW.
Special motorised drums with IP68 sealing protection. 
DC-servo drum motors are rated for the full load noise at 48 dB (A) – the world's lowest noise level of drum motors.
TSS Company
Ph: 1800 033 350