MOROCCO TO OPEN WORLD'S LARGEST SOLAR THERMAL PLANT
27-11-2015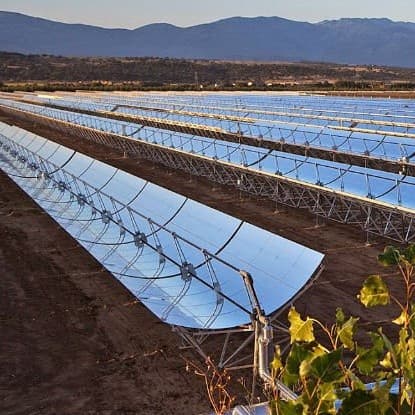 Next month the city of Ouarzazate in Moroccos is set to open the world's largest solar thermal plant that is expected to bring renewable energy to 1 million citizens for 20 hours a day.
Located in the Sahara the plant will utilise the unlimited potential that the unfettered sunlight that the area provides, with the heat being used to melt large amount of salt.
This process will allow the system to preserve the heat to power a steam turbine during the night, inevitably giving locals an almost constant access to renewable energy.
"Whether you are an engineer or not, any passer-by is simply stunned by it,", Paddy Padmanathan, Saudi-owned of ACWA Power said.
 "You have 35 soccer fields of huge parabolic mirrors pointed to the sky which are moveable so they will track the Sun throughout the day."
This new plant is part of Morocco's plant to reach 42% of its electricity generation form renewables by 2020.
With reports claiming that the country had depended on 98% imported fossil fuels, and was importing electricity from Spain, the country has decided to take advantage of the solar power from the Sahara, wind power from the Atlantic Ocean, and hydro from the surrounding mountains.  
"We are convinced that climate change is an opportunity for our country," environment minister Hakima el Haite said.
With all the power being created, there is a large possibility that Morocco would start selling its renewable energy to other European nations over the coming decades.
"If Morocco is able to generate electricity at 7, 8 cents per kilowatt - very possible - it will have thousands of megawatts excess," says Padmanathan.
"It's obvious this country should be able to export into Europe, and it will. And it will not need to do anything at all... [all] it needs to do is just sit there because Europe will start to need it."