More space-gaining solutions from BAC
31-08-2010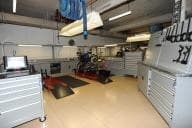 Award winner … BAC drawer storage
BAC Drawer Storage is playing a central role in modern workplaces throughout Australia.
Over the past 34 years, BAC Systems has refined one of the most advanced drawer storage systems in the world.
The compay is the proud holder of the Standards Australia Golden Design Award.
The Industry Design Council of Australia says BAC drawer storage "forms a benchmark for Australian design." 
A common problem for modern workplaces is the need to operate within a constrained workspace. 
This may be due to several issues, including coping with rapid growth or having limited real estate opportunities. 
Cost-effective, intelligently-designed storage and workshop systems are therefore vital to ensure the efficient and functional use of this limited space.
BAC High-Density Drawer Storage Modules are the space-saving solution of the 21st Century. 
The BAC Modules are "building blocks" to create space-saving warehouses with large capacity storage for small parts, tools and boxes in the same unit. 
They are stackable – fastened top to base – to be bolted together back to back and side to side for complete stability. 
This method allows various configurations of modules to suit available space. 
With a personal picking machine capable of elevation, drawers are as easily and quickly accessible 3m above ground as they are at floor level.
In workshops, it is often the case that wide access aisles are constructed despite being only required 2 per cent of the time, thus minimising the number of working locations possible. 
In the modern solution, a mobile workstation with mobile storage provides flexibility through the ability to temporarily allow extended access. 
Any BAC Module can be adapted to become a mobile workplace through the addition of a mobile kit with a steeltray and rubber insert or a stainless steel top. 
Similarly, BAC workbenches and workstations to a length of 2020mm can be fitted with mobile kits.
Contact the technical sales team at BAC Systems to learn more about space gaining solutions for your workplace.
BAC Systems Pty Ltd
Ph: 02 9832 2777