More safety and comfort from Oliver
21-08-2013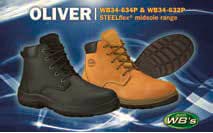 Oliver Footwear has responded to customer feedback by adding two new safety footwear choices to its recently released WB 34 Series range.
The two new releases are Ankle High Lace-Up Boot styles with steel mid sole protection, which will provide an additional wearer choice for most industrial workplaces.
The two new styles are the Oliver 34-632P, a Wheat Ankle High Lace-Up Boot and the 34-634P, a Black Ankle High Lace-Up Boot. Both have premium quality water resistant leather uppers and STEELflex protection against sole penetration by sharps, fixtures, glass or similar inherently risky materials.
Also common to both is Oliver's COMFORTcushion Impact Absorption System that uses a combination of cellular urethane and PORON to protect the heel and ball of the foot.
The boots also utilise the GRIPthane dual density polyurethane shock absorbing midsole with a hard wearing outer sole for the tough workplace and job site conditions.
This sole choice also meets demanding adherence conditions particularly with wet or slippery job site surfaces to the relevant safety standards under AS/ NZS 2210.3:2009 as well as the relevant international EN and ASTM Standards.
Like the other styles in the WB34 Series, the new Oliver boot choices also meet Electrical Hazard (EH) resistance requirements under current industry standards.
Other key features are that the outer sole is heat resistant to 130°C of surface contact with resistance also to mineral and organic oils and acids.
Oliver's industry leading safety comfort features are also a key component of each new boot.
These include the unique comfort foot bed with a perforated foam channels to enhance natural airflow to the feet and is infused with AEGIS Microbe Shield solution.
The boots' full lining is also treated with the AEGIS Microbe Shield solution to protect against odour, staining and deterioration resulting from bacteria and micro-organisms.
Both boots also have a NATUREform safety steel toe cap protection with a wider profile for extra comfort for the wearer while both boots offer a padded collar and tongue for added comfort.
Oliver offers both boots with steel midsole protection in the size range 4-13 with half size increments from 61/2to 101/2.
Oliver Footwear
Ph: 03 53 200 200