MORE OPTIONS IN TOOL PRESETTING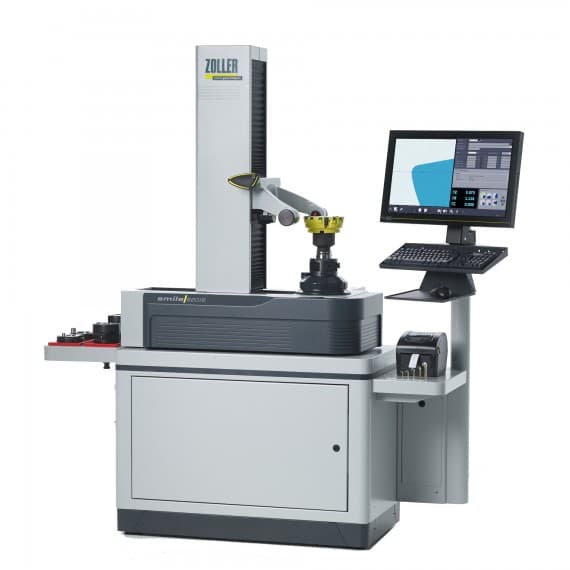 Dimac has expanded its range of tool presetters with the addition of the respected Zoller brand.
Tool presetters improve quality and boost productivity by preparing tools ofline. They perform three key functions by measuring, presetting and inspecting tools. They save set-up time, improve accuracy, produce better quality parts, and minimise scrap.
A state-of-the-art image processing system measures the cutting edges of tools in seconds, then saves and documents the measurement results.
Adjustable boring bars can be easily set with micron precision in less than a minute, which in turn eradicates frustrating "trial and error" cutting. Tool run out can also be checked and cutting inserts inspected using the onboard inspection camera.
According to Dimac MD Paul Fowler: "Presetting and measuring allows for shorter fitting times and greater productivity – while your machine works you can get the next tool ready. Thanks to correctly preset tools, the very first part will be of the highest quality. You can also be confident the tool will perform perfectly until the end of the tool life, thereby minimising the chance of rejects."
Fowler continues: "We've been distributing our EZset tool presetters for a number of years and these have enabled many CNC operators to improve their productivity and quality. To ensure we cater to all market segments, we've now added the respected German Zoller range to complement our existing EZset models."
In addition to offering an extensive range of models, both EZset and Zoller offer extensive hardware and software options to suit each individual operator's production needs.
Both brands have a range of optional features that includes a direct link via Ethernet to various CNC machines. This facilitates the direct transfer of a measured tool's library of results, thus eliminating the potential for damaging data entry errors.
"Precisely measured cutting tools deliver at least a 15% increase in productivity in your manufacturing processes. The initial investment in a tool presetting device is quickly returned through the increased productivity, higher quality and less waste. They are easy to operate and will save a company time and money," Fowler concludes.
Dimac Tooling
03 9771 6121
dimac.com.au