More for less with Gates' belt drives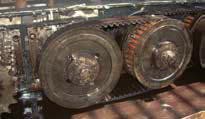 As technologies mature and modernise, manufacturers expect more from less.
More power from a smaller footprint. Greater power from fewer materials.
Synchronous belt technology has evolved, matching the performance of roller chain, while reducing weight, mess, and maintenance.
An Australian coal wash plant for ROM (run of mine) coal screening, was being driven by roller chains running in an oil bath.
However, the existing roller chain drives were stretching, breaking and needed to be heavily greased. There were 39 chains that required replacement in one year on the screen creating significant costs in maintenance and downtime. Gates Australia was able to provide the perfect solution.
Gates Poly Chain GT Carbon belts replaced the chains on the roller screen drive.
Poly Chain GT Carbon belts require no lubrication, a key advantage over the most problematic aspect of a roller chain drive.
When first installed, the Poly Chain GT Carbon belts were running in the oil bath without any issues and without compromising their performance.
In addition, once a belt drive is installed and properly tensioned and aligned, it never needs re-tensioning.
Gates Australia
Ph: 03 9797 9666