More knockout products from Punchtech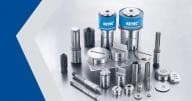 Ketec Precision Tooling, a world leader in punch press tooling, is now making a big impression in the Australian marketplace.
Ketec has become renowned globally for delivering high quality products at affordable prices.
The company now supplies several major global brands, including ABB, Sanyo, Hitachi, OTIS, Flextronics and Haier, at prices that help them to stay competitive in their respective industries. 
Punchtech Australia Pty Ltd is the proud supplier of Ketec tooling Australia wide.
Punchtech offers a broach range of Ketec products for a wide variety of industry applications. 
"Ketec's commitment to its customers is outstanding, says Jared Sharp from Punchtech. "And their sales and support teams are always there to help, he says. 
"Ketec are constantly innovating to bring clients new products to aid with their manufacturing requirements."
Punchtech Australia Pty Ltd
Ph: 03 9768 3745