More cutting edge technology from Treotham
31-08-2010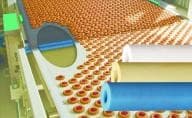 Sliding or rolling knife edges are used in conveyor belts in a number of industries including the food and beverage industry, mining and heavy fabrication.
The robust iglidur P210 rolling knife edge distinguishes itself by low humidity consumption as well as a proper material resistance and a high service life. 
On the other hand, the US FDA conformant all-round material iglidur A180 shows its strength for applications with low to moderate loads in a direct environment of food and humidity and iglidur A350 for medium to high load applications. 
Also, iglidur A180 is used up to 90°C and iglidur A350 is applicable up to 180°C.
The thin igus knife edge rollers allow narrow deflection radii for optimal use of available space and a smooth delivery of goods that are especially difficult to handle. 
These rolling knife edges need lower than usual power requirements because of the rolling action instead of sliding knife edges.
Other advantages are freedom from lubrication as well as a higher service life of the conveyor belt.
Treotham Automation
Ph: 9907 1778