MORE CONTROL OVER YOUR DATA WITH TURCK'S MANAGED ETHERNET SWITCHES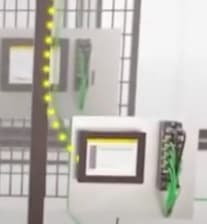 Industrial Ethernet switches can be managed or unmanaged. Unmanaged switches are non-configurable devices which cannot filter data or forward between different IP networks. However, managed Ethernet switches such as Turck's new TBEN-L5-SE-M2 can.
They can be configured to adjust speeds, collect users into subgroups, configure security features, monitor traffic and network activity, and much more.
There's now a faster, more secure and more rugged industrial field mountable managed Ethernet solution, thanks to Turck. Their robust IP67/IP69K TBEN-L5-SE-M2 safeguards against overloads and eliminates unnecessary traffic with forwarding rules and it features continuous network load monitoring on each port. For security it offers NAT routing and an embedded firewall.
The TBEN-L5-SE-M2 is also ideal for mobile equipment with its 8 VDC to 30 VDC power supply range and the icing on the cake is its Gigabit high speed backbone for high speed applications
For more information, visit: www.turck.com.au or call 1300 132 566.