MONITORS PUT POWER READINGS ON THE PANEL
26-09-2017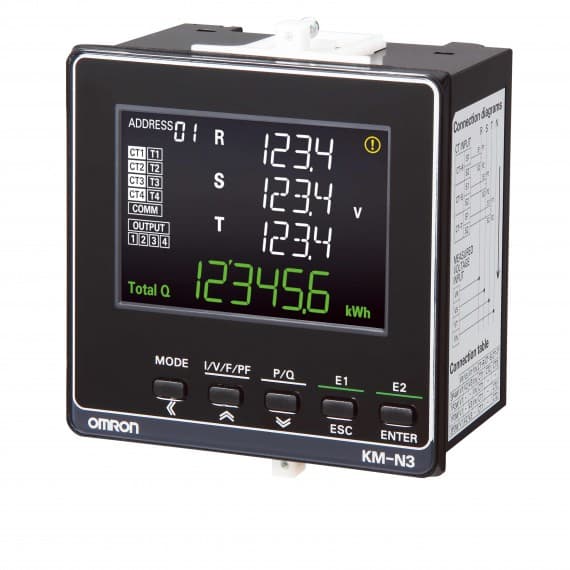 Omron offers the KM-N2 and KM-N3 power monitors to enable high-precision energy analysis of machinery and installations. Models are available for both in-panel and DIN-rail mounting.
The KM-N2 provides high precision power measurements inside control panels, with an easy-to-read high-brightness 9-digit 7-segment display. The monitor is suitable for both single- and three-phase installations, using two-, three- and four-wire circuits. Each monitor can handle inputs from up to four standard current transformers.
The KM-N3 can also measure up to four circuits per unit with IEC class of 0.5S. It features a large, easy to read white and green LCD for efficient visibility. Each power monitor can detect incorrect wiring connections and has special mechanisms for countering RF noise generated by inverters.
It comes as standard with RS485 for communications with a central monitoring system using Modbus-RTU or CompoWay/F protocols.
The KM-N units are part of a new series of Omron panel components that have a consistent look and feel, and are black. All the devices are DIN-rail mounted with a retaining clamp, and have a common height of 90mm. This simplifies wiring, improves heat dissipation in the panel and removes dead space that occurs when adjacent components have varying heights.
Omron Electronics
1300 766 766
www.omron.com.au