Safety in the Workplace, News, Materials Handling & Equipment
Monash launches state-of-the-art facility to test safety of infrastructure, save lives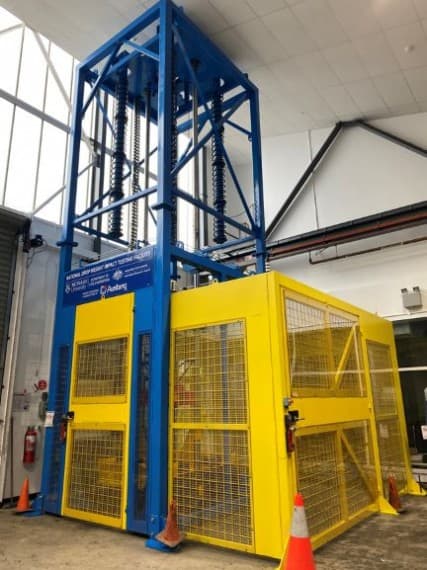 A state-of-the-art impact testing facility designed to boost the structural safety of present and future high-risk infrastructure has been launched at Monash University.
The National Drop Weight Impact Testing Facility (NDWITF) will have world-leading technology that can observe the behaviour of elements under severe impact loading of up to two tons.
Funded through an ARC LIEF grant, the facility will support research in construction, mining, energy and the environment and will place Australia at the forefront of impact engineering research. 
Project leader and Associate Professor Amin Heidarpour, Head of Structural Engineering at Monash University, said the facility has the potential to help workplaces across Australia and hopefully save lives.
"Understanding the behaviour of construction and geo-materials under dynamic loading is essential in dealing with various engineering problems, such as protective structures design and impact cratering, excavation and mining, blasting and fragmentation, and risk management," Associate Professor Heidarpour said.
"A state-of-the-art impact engineering facility provides a national research focus on behaviour of construction materials and systems under impact loading with unique observation techniques.
"This will ensure Australia is at the forefront of impact engineering research in the international arena, promoting local innovation and industrial competitiveness contributing to the safeguarding of Australia, saving lives and reducing losses."
It has the capacity to assess the structural safety of high-risk infrastructure across Australia, including railway networks, tunnels and bridges, buildings and construction materials, as well as road safety barriers and protective equipment.
The performance of structures subjected to impact loading has received worldwide attention. The catastrophic failure of construction materials caused by extreme impact conditions, such as natural disasters and man-made hazards, has justified the need to carry out comprehensive research in order to develop future infrastructure with new, innovative, cost-effective and environmentally friendly materials.
The NDWITF have been constructed with a 2000kg impact mass that has the capacity to create an impact energy of up to 200,000 J and impact velocity of up to 18m/s. Impact loading can be applied to specimens with a width of up to 1m and length of up to 2m. All displacements recorded within each test is captured by an optical 3D photogrammetry system.
A key partner in this project is Austeng, a Geelong-based engineering company who engineered, manufactured, and installed the facility in line with the University's requirements.
"Austeng was proud to be part of this important project and collaborate with Monash University and I am delighted our team was able to deliver a practical and workable solution given the stringent performance parameters set by Monash and the significant engineering challenges involved," said Ross George, Austeng Managing Director.
The NDWITF will also support research in the broader research community on construction, mining, geo-mechanics, energy and the environment. Fields of application and interest include construction materials under high strain loading, structural dynamics and engineering, mining excavation and rock fragmentation.
The facility located at Monash University's Department of Civil Engineering, was part of a collaboration involving six other universities, including the University of New South Wales, Swinburne University of Technology, Queensland University of Technology, University of Wollongong, University of Technology, Sydney and The University of Melbourne.
It is accessible to all researchers, students and industry.