THE MODULAR WAY TO SET AIR FREE, BY SMC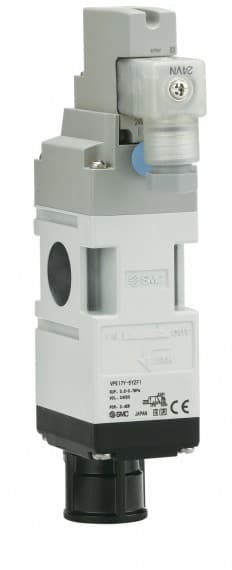 The next-generation VP#17 series from SMC completes the automation giant's portfolio of three port pressure relief valves for FRL (filter regulator lubricator) units, where electrically operated valves are required.
This modular valve series allows for easy connection to FRL units and ensures space savings without the need for piping adaptors. According to Guiomar Fernandez, Product Marketing Manager for SMC ANZ, these residual pressure relief type valves are suitable for pneumatic applications with air preparation equipment and where it's necessary to exhaust air to carry out maintenance.
Energy savings for everyone
"The efficiencies of this valve series are particularly notable with as little power as 0.35W required to operate the DC type," Ms Fernandez said.
IP65 rated and flexible
Suitable for a range of environments, Ms Fernandez notes that the VP#17 features an IP65-rated enclosure. "It's dust tight and water-jet proof to withstand a variety environments and applications."
"Another key feature to note is its flexibility when it comes to mounting. Thanks to its modular design, the VP#17 series can be easily connected to your FRL unit," Ms Fernandez said. "It's also possible to select a flow direction of left to right or right to left."
The VP#17 series completes SMC's range of 3 port valves that can be connected to FRL units.
"In addition to these electrically operated valves, our range also includes manually operated valves [VHS], soft start up function [AV] and safety standard compliant valves [VG/VP]. Each of these offers the flexibility and adaptability that our customers have come to expect from SMC," she said.
SMC Corporation (Australia) Pty Ltd