MODULAR STORAGE SYSTEMS IMPROVE FACTORY ORGANISATION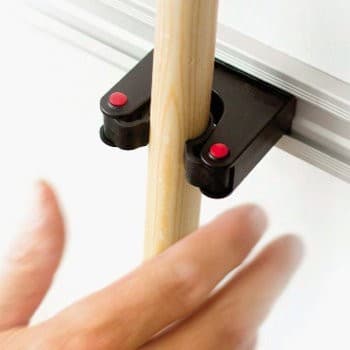 Improved organisation and storage of equipment helps fast moving production facilities operate more efficiently and more safely. Colour coding is also a good way to provide area control of equipment.

The challenge often is that tools and equipment come in a wide range of shapes and forms, and often factory managers end up making bespoke wall hangers and storage devices which are costly and not always the best solution.

The Toolflex modular storage system, available in Australia and New Zealand from WR&D Wells, is a simple and flexible system of wall storage, suitable for hanging a variety of equipment and tools.

The Swedish-made system includes a range of clever rubber clip holders, plastic and stainless steel hooks and other universal or "multi-fix" holders. The range of tool holder options mean that the system can be used for hand tools, cleaning equipment, buckets, PPE and other miscellaneous factory equipment.

The availability of eight different colours, means factories can easily apply area colour coding to support good manufacturing practice and control across the plant. The system can also be complemented by the inclusion of location rails and picture plates, which mount above the Toolflex rail to clearly show which item is to be stored where.

Wells offers free plant site surveys to assist with making the right choice and achieving better organisation when it comes to storage and organisation of equipment.
Visitors to AUSPACK 2017 in Sydney can see the Toolflex system from WR&D Wells on Stand 473.

WR&D Wells
03 9699 8999
www.wrdwells.com