MODULAR PLATFORMS ARE SAFE ANSWER TO COMPLEX ACCESS REQUIREMENTS
21-11-2017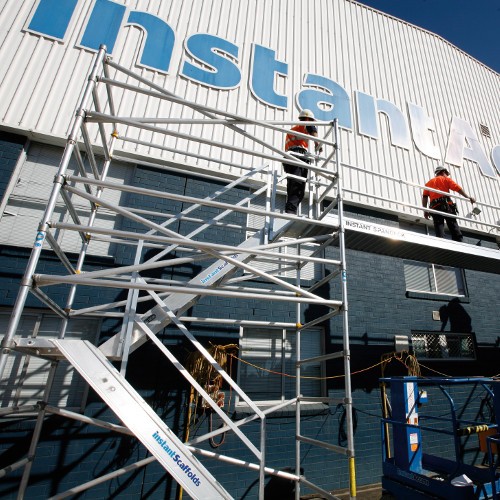 The Instant Access Spandeck system is a modular work platform system that provides a full range of simple, safe and cost-effective solutions to complicated and difficult access requirements.
Spandeck is a lightweight aluminium walkway bridge, work platform and staging system in one versatile unit. Thanks to its unique reversible design and double side hooks Spandeck can be used individually as a walkway or side by side as staging.
Its high-strength aluminium alloy construction ensures Spandeck is lightweight and remains maintenance free. And its integral toeboards allow it to be used safely as a walkway. Guardrail posts and guardrails are fitted to provide a safe working environment.
Spandeck provides a simple, cost-effective and safe answer to any high-level access requirement. Using just a small number of standard components, the system is easy to specify yet is versatile enough for the most demanding of locations.
Installation is quick and simple, and thanks to the light weight the need for expensive craneage is reduced.
Spandeck can be inverted and used in multiple combinations to provide decks and work platforms of virtually any dimensions. The unique hook design allows Spandeck to be positively connected for multi-width use and also provide a positive location between towers or traditional scaffold systems.
The Spandeck system has become the first choice for specifiers of roof access equipment, thanks to Instant Access's programme of ongoing development to improve safety while working at height. In conjunction with major roofing contractors and safety officers, the company has developed a number of safety products designed to ensure safe roof access without hindering work progress.
Providing full compliance, where applicable, with BS6399 (part 1) 1996 and BS5395 (part 3) 1995, subject to detailed specification, Spandeck systems are manufactured using procedures approved to ISO9001.
Instant Access
1300 10 20 80
www.instantaccess.com.au