MODULAR MOTION SYSTEM ENABLES FLEXIBLE ROBOTICS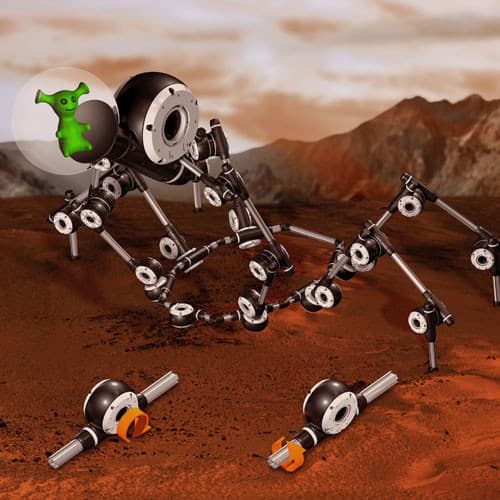 Robolink Apiro is a novel modular motion system developed by igus and available in Australia from Treotham Automation. Based on low-cost high-performance plastic materials, the motion system offers a choice of three lubrication-free worm gears for standard movement, inverted movement and linear movement. Together, these enable the development of solutions ranging from a simple linear robot to complex humanoid and animatronic robots.
All the worm gears in the new Apiro series are made from high-quality tribo-polymers with solid lubricants. These corrosion-free and chemical-resistant high-performance plastics ensure a high degree of stability, low weight, a long service life and zero maintenance.
In the robolink Apiro system the joints are joined together using a hollow multifunctional aluminium profile. This makes it possible to insert drive shafts through the hollow space, as featured by the inverted worm gear. The gearbox causes the aluminium profile to rotate, which makes it ideally suited for use in robotics and rotating applications.
When used with the new worm gear with linear movement, the aluminium profile can travel linearly through the worm gear or, alternatively, the worm gear can travel on the linear profile. In addition, worm gears have very little clearance.
The multifunctional profile also allows the different gearboxes to be interconnected. For example, placing several Apiro joints side by side allows the creation of parallel joint connections. This results in almost infinite combination possibilities that can be used to automate very different applications.
Treotham Automation
1300 65 75 64
www.treotham.com.au