MODULAR CONNECTORS PROVIDE POWER, SIGNALS AND DATA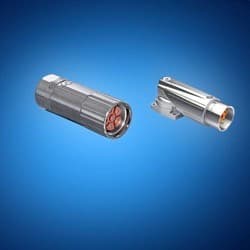 Mouser Electronics stocks Intercontec connectors from TE Connectivity. Featuring a simple design and easy assembly, these modular, highly versatile connectors deliver a reliable, customised solution for power, signal and data transmission. They are suitable for an extensive range of applications, including robotics, drive systems, medical devices, aerospace, chemical engineering and transportation.
The connectors are available in a variety of sizes, power levels and functions, and include color coding that prevents faulty mating when wiring complex equipment. The connectors feature an innovative 1/8 quick locking system that helps reduce installation times and the risk of failures during on-site installations. All of the connectors are IP 66/67 rated (unless stated otherwise) to meet EN 60529 qualifications.
The Intercontec 617 series are 12- or 17-pin signal connectors that support up to 7A maximum power and are available with either an M17 threaded or SpeedTec quick-lock fastener. The 623 series are M23 signal connectors with support for designs requiring up to 160V and 20A. The 615 and 915 series are signal and power connectors, respectively, that include ytec and itec quick-lock fasteners.
The 917 series are M17 threaded power connectors that support up to 20A maximum power and 4, 7 or 9 pins, the 923 series are M23 threaded power connectors with 200A maximum power, and the series 958 power connectors feature 150A maximum power and 630V voltage.
The connectors' modular design makes them compatible in a number of different combinations, while their plug-and-play facility allows for quick installation and simple replacement of defective parts.
Mouser Electronics
+852 3756 4700
au.mouser.com