MODULAR COLUMN PROTECTORS KEEP STRUCTURES SAFE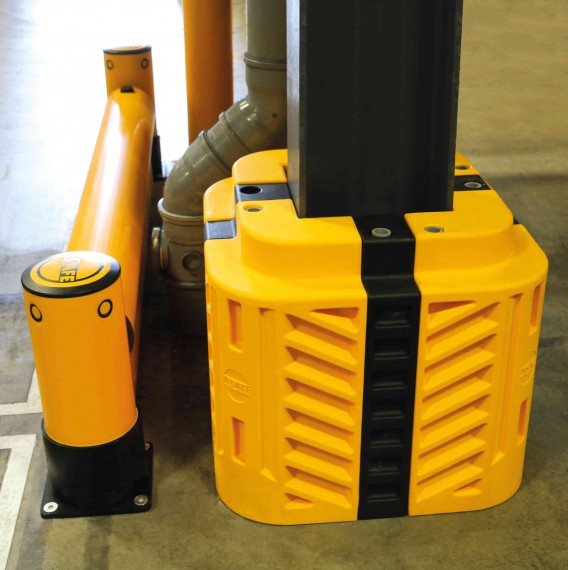 Columns and pillars in warehouses and distribution centres can easily be damaged by impacts from forklifts. And this damage can undermine the structural integrity of the building.
Now A-Safe has come up with a practical solution for protecting columns and pillars from forklift impacts. The A-Safe FlexiShield Column Guard comes as a modular system that provides a perfect fit to any square or rectangular universal column or vertical structure.
Each of the four corner sections is constructed with high strength inner and outer structural support ribs that maximise impact resistance. Further impact-resisting chevron and rectangular indents in the structure ensure that there are no flat surface areas that might be susceptible to fork penetration.
These indents increase the total surface area of the column protector, providing more material for energy absorption, and allowing the structure to expand and contract before reforming to its original shape.
The corner sections (and expansion panels if required) all lock together to increase the structural integrity of the column protector. And multiple sections can be stacked vertically using the integral stepped stacking feature to provide protection at any height, with each vertical layer locking to the layer below.
Because all the modular components of the column protectors lock together by design, each completed assembly acts as a single structure, dissipating the energy of any accidental impact throughout the whole structure. This means that the impact energy is transferred away from the column, rather than towards it.
The FlexiShield Column Guard range comes as standard in high-visibility yellow polyethylene, adding a further visual safety aspect to the design. The standard corner pieces combine to cover all common square column sizes from 100 x 100mm to 600 x 600mm, and the addition of three different expansion panel sizes allows the range to cover a near infinite range of column and pillar profiles.
A-Safe Australasia
02 9625 8927
www.asafe.com