Materials Handling & Equipment
MOBILE SCREW CONVEYOR KEEPS TRANSFERS FREE FROM DUST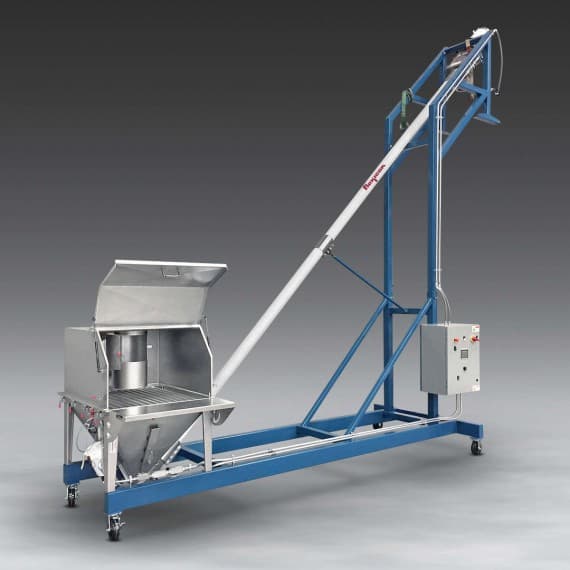 The latest Flexicon mobile flexible screw conveyor has a multipurpose hood that enables the dust-free transfer of material discharged from bulk bags and/or manually dumped from handheld sacks into elevated process equipment or storage vessels.
The conveyor is mounted on a frame with locking castors, and so is easy to move around a plant. And, rather than include the heavy frame components typically used to support bulk bags, it is designed to use with a forklift or plant hoist to suspend the bag above the unit during operation.
An iris valve on top of the dust hood allows variable control of flow through the bulk bag spout. A bag support tray and hinged door enable the manual addition of minor ingredients from handheld sacks.
The flexible screw conveyor is suitable for both free-flowing and non-free-flowing bulk materials, including products that pack, cake, smear, seize or fluidise, with no separation of blends. There are mounting flanges at the discharge end of the conveyor support boom to allow the integration of a metal detector below the conveyor outlet.
All material contact surfaces are stainless steel finished to sanitary or industrial standards with the exception of the conveyor's polymer outer tube. The mobile frame is constructed of carbon steel with a durable industrial coating, and is also available in stainless steel.
Flexicon Corporation (Australia)
1300 353942
www.flexicon.com.au